Purchasing Property in Mexico: Part 1
The process for buying property in Mexico for a non-Mexican is very similar to the process in the United State and Canada except it requires a few extra steps. The extra steps include the requirement of registering and obtaining permission from Mexico's Secretary of Foreign Relations, and having to establish a Fideicomiso or bank trust when buying property in the restricted zone.
Real estate transactions and property rights are outlined through local, state, and federal laws in Mexico; however, the protection for the parties involved are not as detailed or regulated as the property acquisition process established in Mexico's northern neighbors. While many people may see this as a deterrent, this also allows for many opportunities, so long as you have a good, experienced real estate team representing and protecting your interests.
The most important steps when purchasing a property in Mexico, as compiled from the TOP Buyer's Representatives, are:
Identifying the area you are interested in purchasing real estate.
Selecting an experienced, certified, and licensed real estate agent.
Research and study the laws and procedures of real estate in Mexico. Having a knowledgeable real estate agent will help with this.
Research property's online and have your real estate agent compile a list of property that meet your criteria.
Physically visit and tour property's with your real estate agent, evaluating the pros and cons of each property.
Decide which entity will hold the bank trust and property on your behalf, if purchasing in the restricted zone.
Choose your new Mexican dream home and make an offer.
Prepare the promissory contract or the purchases sales contract.
Inspecting the legal documents and obtain permits.
Formalization of the conveyance and filing with the public registry.
Steps when buying pre-construction:
A very popular real estate product in Mexico for non-Mexicans is purchasing properties during the pre-construction phase. Purchasing real estate in the pre-construction phase allowed buyers and investors to receive additional benefits such as the option to design the home to the buyer's specific wants and needs, as well as receive substantial discounts on the property.
The difference in the process of purchasing a pre-construction property versus. An existing property focuses around the time frame of delivery. In general, an existing property is ready for immediate delivery and transfer of physical possession as well as legal possession to the new owner. On the other hand, a pre-construction project will establish a date for future delivery of the physical and legal possession. This introduces an identifiable risk to the buyer, but is compensated by generous discounts on the physical price of the property. The Top Buyer's Representatives will go into the details of the advantages of each.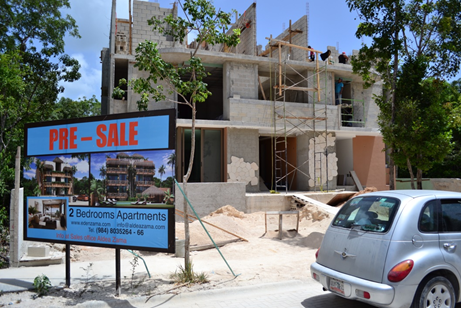 These are the basic steps needed to purchase property in Mexico. Stay tuned for more informative articles about the buying process in Mexico.
Now if you have any question about how to purchase property in Mexico or are interested in any of the TOP MEXICO REAL ESTATE properties we have listed throughout Mexico, please feel free to contact any of our TOP BUYER'S REPRESENTATIVES and we will be glad to help you find your very own piece of paradise.
And remember, here at TOP MEXICO REAL ESTATE…
We make it happen!
We would like to thank Puerta Zama for sponsoring this blog. Puerta Zama is a new development in Aldea Zama. To learn more about Puerta Zama, please click here.