Puerto Vallarta is an amazing place with gorgeous real estate, a variety of hotels, and beautiful beaches. There are fantastic restaurants, shops, art galleries, nightlife and many tours and activities to take part in. There are many things do in Puerto Vallarta apart from just relaxing on the beach, tanning under the sun. In Puerto Vallarta there are many activities and attractions that can be enjoyed with very little or no money at all. Here is a list of the top ten things to do in Puerto Vallarta.
The Malecon (Boardwalk)
This is one of the most popular, entertaining and typical Puerto Vallarta attractions. For decades, the boardwalk has been the center of activity in the city, this pedestrianized road covers the distance between Hotel Rosita and the Lighthouse.
Walk along the sea shore, take in the sights, and enjoy the colors of the city.  There are also countless shops, restaurants and bars; so if you want to buy, eat and relax, this is the place to be!
Additionally, if you like nightlife the Malecon offers nightly entertainment, bars, nightclubs and discos.
Parish of Our Lady of Guadalupe
The parish church of Our Lady of Guadalupe in the historic center of Vallarta is a symbol of the city, not only for its historical significance, but because its beauty dominates the panorama of the city.
It is located one block from the Plaza de Armas and two blocks from the Malecon – you can't miss it! Remember to follow the rules and show respect when visiting this magnificent church.
The Romantic Zone (Viejo Vallarta)
Viejo Vallarta is located south of the Cuale River; it is also known as Zona Romantica (romantic zone) and it is one of the most distinctive areas of Puerto Vallarta. This area has a more traditional layout, where you will find countless shops, cafés, restaurants, and small hotels and inns.
This area is a favorite for people trying to experience the real Mexico, explore its narrow roads and enjoy everything Puerto Vallarta has to offer.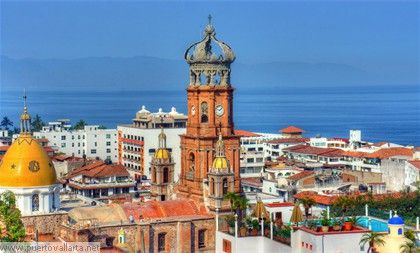 Playa Los Muertos
Playa Los Muertos is the most popular beach in Puerto Vallarta, and is within walking distance from the Malecon and the romantic zone.
In Playa Los Muertos, you will find a wide array of bars and restaurants, offering the local specialty, seafood. Most of the businesses in the area have a view where you can enjoy a cold drink while looking around at all the vendors on the beach, people parasailing, swimming or children playing.
Isla Rio Cuale
Right in the center of Vallarta, between the romantic area and the historic center is the Cuale River, a park among large trees and dense vegetation with colorful businesses such as restaurants, cafes, and small shops and stalls selling souvenirs, clothing, ornaments, and jewelry, amongst others.
The island also has a museum, the Rio Cuale Cultural Center and a memorial plaza with a statue of John Huston. It is worth a visit to relax and escape the sun for a while.
As you can see there are many wonderful things to do and see in Puerto Vallarta. The rest of the top ten things to do in Puerto Vallarta is soon to come.
Now if you have any question about Puerto Vallarta or any of the TOP MEXICO REAL ESTATE properties we have listed anywhere throughout Mexico, please feel free to contact any of our Top Buyer's Representatives, we will be glad to answer any of your questions and help you find your very own piece of paradise.
And remember, here at TOP MEXICO REAL ESTATE…
We make it happen!
We would like to thank Quinta del Mar for sponsoring this blog. Quinta del Mar is a new development in Flamingos Estates, in Puerto Vallarta. To learn more about Quinta del Mar, please click here.