If you have ever visited the Riviera Maya before, you might be familiar with the town of Tulum, a small city located approximately an hour and a half south of Cancun. Tulum has some of Mexico's and even the world's most beautiful white sandy beaches.  The city of Tulum is known for having a laid back, eco-friendly and modern atmosphere filled with tropical jungles and pristine beaches.
Can you imagine living a few minutes from these beautiful beaches and being able to enjoy the life that you deserve?
Well, you can at Artia!
Artia is conveniently located in the exclusive Aldea Zama subdivision, near the beach and the archeological zone of Tulum. The new, residential community of Aldea Zama has a pedestrian only commercial area with restaurants, cafes and shops. Additionally, the commercial area hosts regular farmers markets and has a Zen palapa for yoga and meditation. Aldea Zama is located on the road that leads straight to the gorgeous beaches and the Papaya Playa Project Beach Club.
In Tulum nature is the main element, which is why Artia has chosen to surround itself in the art of living in the jungle. Each of Artia's luxury modern condos were designed using the jungle as inspiration mixing locally sourced materials with the latest architectural trends to create an atmosphere of peace and tranquility amidst the jungle.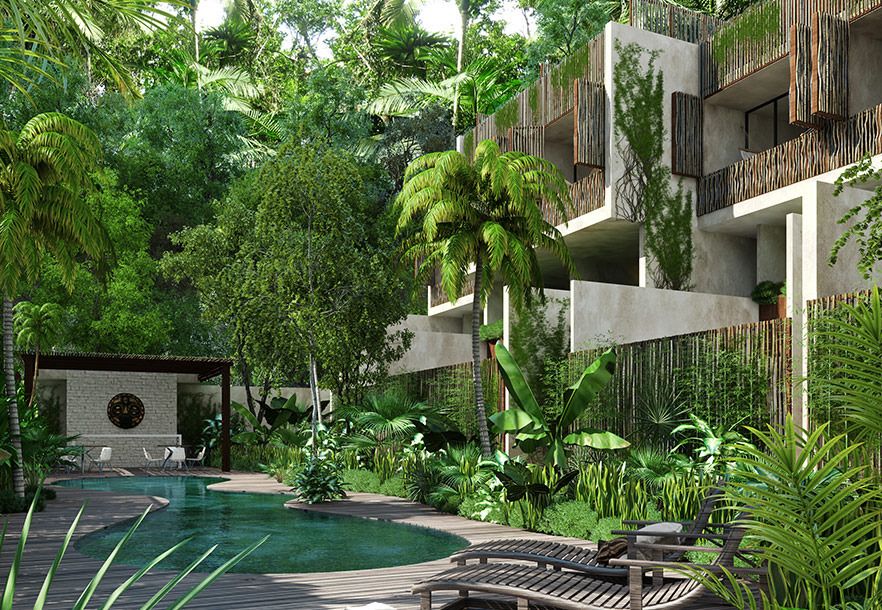 The development consists of 21 condos with two superb property layouts. There are 7 condos located on the ground floor, these one-floor condos known as Bahreque start at $222,700 USD.  The Bahreque condo features two bedrooms, two bathrooms, a fully equipped modern kitchen, a splash pool, a private parking space and storage area. There are 14, 3-floor townhouses known as Chukum that start at $241,400 USD. The Chukum townhouse have all that Bahreque has to offer plus a stunning solarium with a grill, Jacuzzi and magnificent views of the jungle. The condos at Artia have luxury finishes and perfectly designed spaces for a comfortable life. Additionally, in order to respect and promote the local economy Artia used only high quality local materials in the building.
Amongst the many amenities you can count on as an owner of these beautiful condos, is a gorgeous outdoor common area with a swimming pool, palapa, and service bar. The reception area features a library, social and reading area ready to inspire you. And if that wasn't enough, remember the breathtaking beaches I have been talking about? Well, all the Artia residents have an exclusive membership to the Papaya Playa Project, a beautiful beachfront beach club with lounge chairs, a bar and restaurant. How will you get to the Papaya Playa Project? Well, you can take one of the free Artia bicycles and follow the beautiful bike path that leads you to the beach. Swim in the clear blue waters of the Caribbean Sea, relax and enjoy all that Papaya Playa Project has to offer. Allow yourself to be pampered at Artia and the Papaya Playa Project.
Artia just broke ground, started construction on the main entrance and reception area. Artia is scheduled to be delivered in June of 2016. If you purchase a property early at Artia you will receive a friends and family discount, and per-construction pricing. To see all of the construction photos and follow Artia's progress please feel free to click here.
Surround yourself in the art of living in the jungle at Artia.
Now if you have any questions about Artia or any of the TOP MEXICO REAL ESTATE properties we have listed in Tulum, the Riviera Maya or anywhere throughout Mexico, please feel free to contact any of our Top Buyers' Representatives and we will be glad to help you find your very own piece of paradise.
And remember, here at TOP MEXICO REAL ESTATE…
We make it happen!