5 Reasons to Buy Real Estate in the Yucatan: Safety
Yucatan is one of the safest states in the country, problems that have been experienced in other areas of Mexico are completely unheard of in this southern state. The Yucatan people pride themselves on how "tranquilo" their state is, and rightly so.
According to a recent government homicide rates presented a figure of 2 per 100,000 people. Just so you have something to compare it to, the national average in the US is 5 per 100,000 people.
In addition, the Yucatan had zero kidnappings. There vehicle theft rated at 10.4 per 100, 000 people, while the average for all of Mexico is 160 per 100,000 and the US reports states its 167.8 per 100,000 people. These numbers show that Yucatan is safer than the United States.
*Source:UNODC International Burglary, Car Theft and Housebreaking Statistics, 2014
5 reasons to buy Real Estate in the Yucatan: Affordability
If you think moving to Mexico is going to cut your expenses, living in the Yucatan would save you up to ⅔ of your living expenses compared to areas like Cancun and the Riviera Maya. The difference in prices is much more dramatic when it comes to the prices of homes, services and salaries.
Let's say your real estate budget is 250,000 USD, for that money you could get a 2 bedroom/ 2 bathroom condo with about 1722 sq. ft. close to the mall in Cancun. If you wanted to buy a property in Playa del Carmen you could get a 2 bedroom penthouse close to the beach or a small house with three bedrooms about a mile away from the beach.
With the same money in the Yucatan you could afford a beautiful remodelled colonial home with a pool and a lot of upgrades like a water softener system and a casita for guests. Or what about a beautiful secluded beachfront lot in Rio Lagartos where you can build the house of your dreams, enjoying nature and the quiet life of a fishing village.
5 reasons to buy Real Estate in the Yucatan: Variety of styles
If you love architecture, the Yucatan has over 500 years of architecture history throughout its different neighborhoods.  Yucatan has so many properties from colonial homes, to French styled mansions, to mid-century and modern properties; we are sure you will find the house of your dreams.
Many foreigners dream of have a beautiful colonial home, but find that in some states the law prevents them from making changes to the layout of the house. In most areas of the Yucatan, the facade has to be preserved but you can add or alter the inside of the home.
5 reasons to buy Real Estate in the Yucatan: A rich history and cultural life
Forget about books! In the Yucatan you live history everyday. From the vibrant Maya community, the small towns full of charm, the haciendas and the colonial homes; it is easy to keep in touch with history when you live in the Yucatan.
If you enjoy the fine arts, the Yucatan has many cultural activities: from the symphonic orchestra, the ballet, museums and theater; you will have lots of alternatives. There is also a good sized English Library that organizes events and classes, and will let you meet other English-speakers living in the peninsula.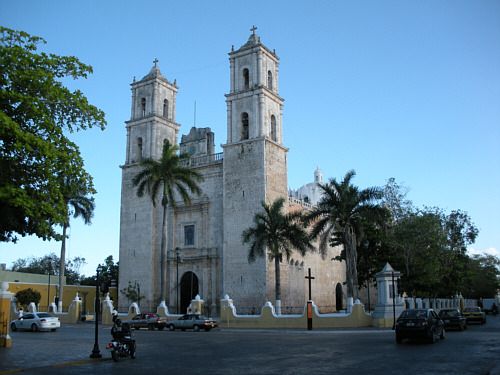 5 reasons to buy Real Estate in the Yucatan: Close to everything
The Yucatan has good roads throughout and you can drive around safely. The beautiful beaches of the Caribbean are not very far away and are great for a day trip. Merida is also a big city with everything you might need: supermarkets, top notch hospitals, modern malls with boutiques by international designers, etc.
Living in the Yucatan does not mean you have to give up any of the comforts you are accustomed to, as there are many services available such as Internet television to watch your favorite programs, phone service with free calls to the US and Canada, and so many more.
So if you are considering retiring or owning a vacation property in Mexico, make sure to have the Yucatan on the list!
Top Mexico Real Estate is an American-Owned local company, we are experts in helping foreigners become homeowners in Mexico. If you are interested in find the house of your dreams, please peruse through our website and contact a Top Mexico Buyers' Representative.
Top Mexico Real Estate…