Traveling to Mexico is an amazing experience, our country has always been a favorite destination for tourists from all over the world. There are so many things to do and see, from coast to coast and from north to south: color, soul and natural beauty are everywhere.
However, visiting or moving to Mexico means you have to find out some of the migratory requirements in order to be prepared. So, we have made a handy list of 5 things you need to know before traveling to Mexico.
5 Things You Need to Know Before Traveling to Mexico: Visas
Depending on your country of origin, it is always important to check if a visa is required to travel to Mexico. If you are a citizen of one of the listed countries, you do not require a visa.
America: Argentina, Canada, Chile, Costa Rica, United States, Panama, Paraguay, Uruguay and Venezuela.
Europe: All the countries of the European Union.
Oceania: Australia and New Zealand
Asia: Japan and Singapore
*Foreign citizens, regardless of nationality, with legal residence in the United States, Canada and Japan do not require a visa.
If you are visiting from a country that is not listed above, please allow enough time to process your visa at the closest Mexican embassy or consulate. Please check the requirements for the kind of visa you need and make sure you have a valid passport.
For a more detailed consultation of the requirements, visit the website of the Instituto Nacional de Migracion (National Immigration Institute) for the latest updates.
5 Things You Need to Know Before Traveling to Mexico: Â Immigration Form
All foreigners are required to comply with immigration filling an FMT format (tourist or business visitors); this visa has a cost of $20 USD. This tourist visa has a maximum duration of 180 days and you can get it at border crossings and ports of entry to Mexico or through travel agencies and airlines.
Make sure that your FMT is properly authorized and stamped by the immigration officer, you must keep this form with you at all times and leave it with customs when you leave Mexico. Failing to leave your FMT with customs can cause problems when you want to come back, as it might appear you didn't leave within the allotted 180 days.
If you are an American citizen, you can find more information on this website.
5 Things You Need to Know Before Traveling to Mexico: Customs
There are certain restrictions on the amount of items that can be brought into Mexico, if you exceed these restrictions you might have to pay taxes on these items.
As a rule of thumb these are the customs regulations that apply in Mexico:
If you travel by air or in a boat: You can bring items as long as they don't exceed more than 500 US dollars.
If you travel by land: You are allowed to bring up to 300 USD in merchandise, and this amount goes up to 500 USD during Christmas season (Nov 1st- January 8th).
You must submit invoices and receipts necessary to prove the value of the merchandise for it to be subject to the payment or exemption of taxes.
In the case of transporting cash, checks, or any other document worth more than 10, 000 USD or its equivalent hast to be declared to the immigration authorities with the appropriate format to the entry and departure. Failure to do so entails severe penalties.
For more information on these and other requirements as well as possible changes in customs policies visit this website.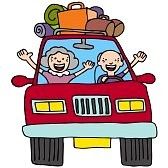 5 Things You Need to Know Before Traveling to Mexico: Personal Luggage and Equipment That Can Be Brought Without Paying Taxes
Personal goods such as clothing, footwear and hygiene and beauty products.
Baby items such as chair, portable crib, stroller, walker and accessories.
Two photographic or video cameras, photographic material.
Up to three cell phones, wireless internet devices, one GPS.
One laptop computer, one portable printer, DVD player/ burner and a portable projector with accessories.
Two sets of personal sports equipment: four fishing rods, three sliders with or without sails and their accessories, trophies or awards, provided they can be transported normally and commonly by the passenger.
A portable device for recording or reproduction of music, a portable DVD player and a set of portable speakers and accessories.
Five DVDs, ten albums, thirty compact discs (CD), three software packages and five storage devices for any electronic equipment.
Books, magazines and printed documents.
Five toys, including collectibles, and a video game console, as well as five games.
A blood pressure and a glucose meter, as well as medications for personal use. In the case of psychotropic substances must bring the corresponding prescription.
Suitcases, and trunks or any other items necessary for the transfer of luggage.
In the case of passengers over 18 years, a maximum of ten packs of cigarettes, cigars or 225 grams of snuff; up to three liters of alcoholic beverages and six liters of wine.
A pair of binoculars and a telescope.
Two musical instruments and accessories.
A tent and other camping items.
Walkers, wheelchairs, crutches, canes, etc.
A set of hand tools including its case that may include a drill, pliers, wrenches, screwdrivers, cables, etc.
5 Things You Need to Know Before Traveling to Mexico:Â  Bringing Your Car
If you want to bring your car to Mexico, you must process the Temporary Import Permit vehicle online or in the BANJERCITO modules located at the borders. The permit will be issued for the length of your stay in Mexico, and for up to 180 days.
In the case of Mexicans living abroad, this permit is extended for a period of 180 days that can be used throughout the year as appropriate as long as the legal residence abroad and automobile ownership is verified.
Once you enter a country you can cross it freely without restrictions to migration. Inquire with your insurance company about coverage in Mexico, if it is not included make sure to purchase car and travel insurance and carry your policy and their phone numbers with you in case of emergency and for assistance.
If you want to learn more about the process for importing your vehicle, have a look at this page.
Top Mexico Real Estate is the number one source for everything regarding moving and living in Mexico.
We make it happen!