This morning I went to Tulum to review the growth, potential and real estate market. I must say Tulum is booming compared to what it once was. To give you an example of what is available in the Tulum real estate market the average price for a Tulum condo is $246,194 USD. The average price per square meter for a Tulum condo is $1,708 USD. Here is what is found on my Tulum real estate trip.
First I went to Holistica, a place where you can nurture your mind, body and spirit. Holistika is a new concept of integrated living in a master planned community, where harmony with the natural environment is it main focus.  Holistica offers jungle living with natural walking paths, beautiful fountains and streams, and the Holistica Center all amidst the lush tropical jungle.
The Holistika Center is the living, beating heart of the residential community. It is a tranquil park featuring a meditation and yoga studio, a luxury spa and a café offering organic, vegan and nutritional food choices. Access to the Holistika Center is free of charge to all of the residents and their guests. Furthermore the Holistica Center is up and running and is also open to outside visitor at an additional cost.
The design of the community integrates uniquely shaped buildings with ecological designs. The community has single family homes with an eco-friendly design to luxurious chic and modern homes. The single family residential lots for sale in Holistica start at just $75,000 USD and constructed lots with home packages starting at $255,000 USD.  There is also one condo development in Holistica, Niwa consisting of 13 spacious condos with a spectacular pool, roof top terraces and solarium with a Jacuzzi. The condos at Niwa range from $240,000 – 330,000 USD and the average price per square meter is $1,458 USD coming in lower than the Tulum average.
Live at Holistica where your free spirit can be one with nature.
After visiting Holistica I drove around the downtown area checking out the condos, shops, and restaurants and I can say that the area have grown in the past year. Then I went to the new Aldea Zama community to analyze it has growth over the past year and review the several new properties. The construction in Aldea Zama has grown to include multiple condo development that are already completed and have residents living in them, there are several pre-construction developments for sale, and a finished commercial area. Aldea Zama is on the verge of being a lively community.
The commercial area in Aldea Zama is ready for merchants to start move in. The commercial area has a pedestrian only walkway with beautiful fountains, where shops and restaurants that line the bottom and luxury condo units are on top of them. The area currently hosts an organic farmers market on the 2nd and 4th Sunday of every month and a couple of stores look like they are ready to open.
In Aldea Zama I walked through Xaman, an exclusive development with only 14 two and three bedroom condos. The construction is already 70% complete and the showroom is open. These Tulum condos use warm and noble materials of the region such as wood, stone, smooth cement, combined with a modern design and amenities such as elevators, private pools and integrated kitchens. The creative design at Xaman mixes the materials in a different yet striking way. Take the floor for example, it is made of polished cement but where one might place an area rug Xaman has replaced it with built-in wooden panels.  These Tulum condos are priced from $225,750 to 322,000 USD and the average price per square meter is $1,643 USD.  Xaman is ideal for those seeking the tranquility of a small condominium of excellent design and quality finishes.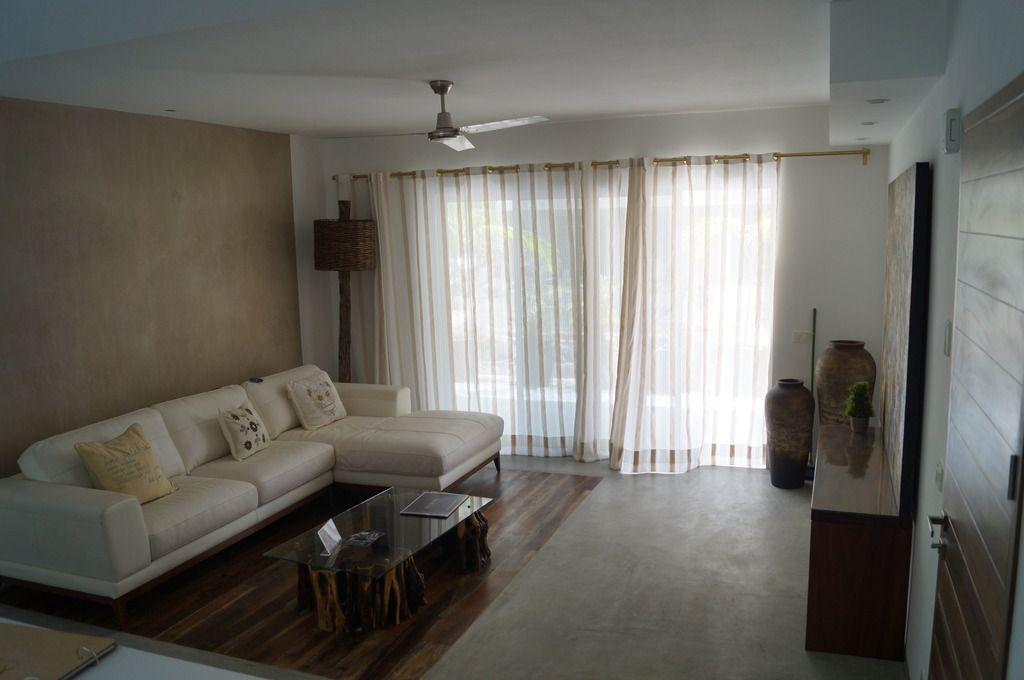 To finish off the Tulum trip I stopped in the new pre-construction development Artia. Artia has 21 modern two bedroom, two bathroom condos. The development features a swimming pool, a library and a multipurpose room. Additionally the residents receive an exclusive membership to the Papaya Playa Beach Club.  Artia is using the latest in architectural trends mixed with local resources and materials, giving this development a feeling of being one with nature.  The construction at Artia just recently started but they are moving right along having almost completed the grand entry that features a thatched palapa with a wood and stone facade. The condos at Artia are priced from $235,800 – 265,500 USD and the average price per square meter in this development is $1,704 USD.  Artia, art-jungle living!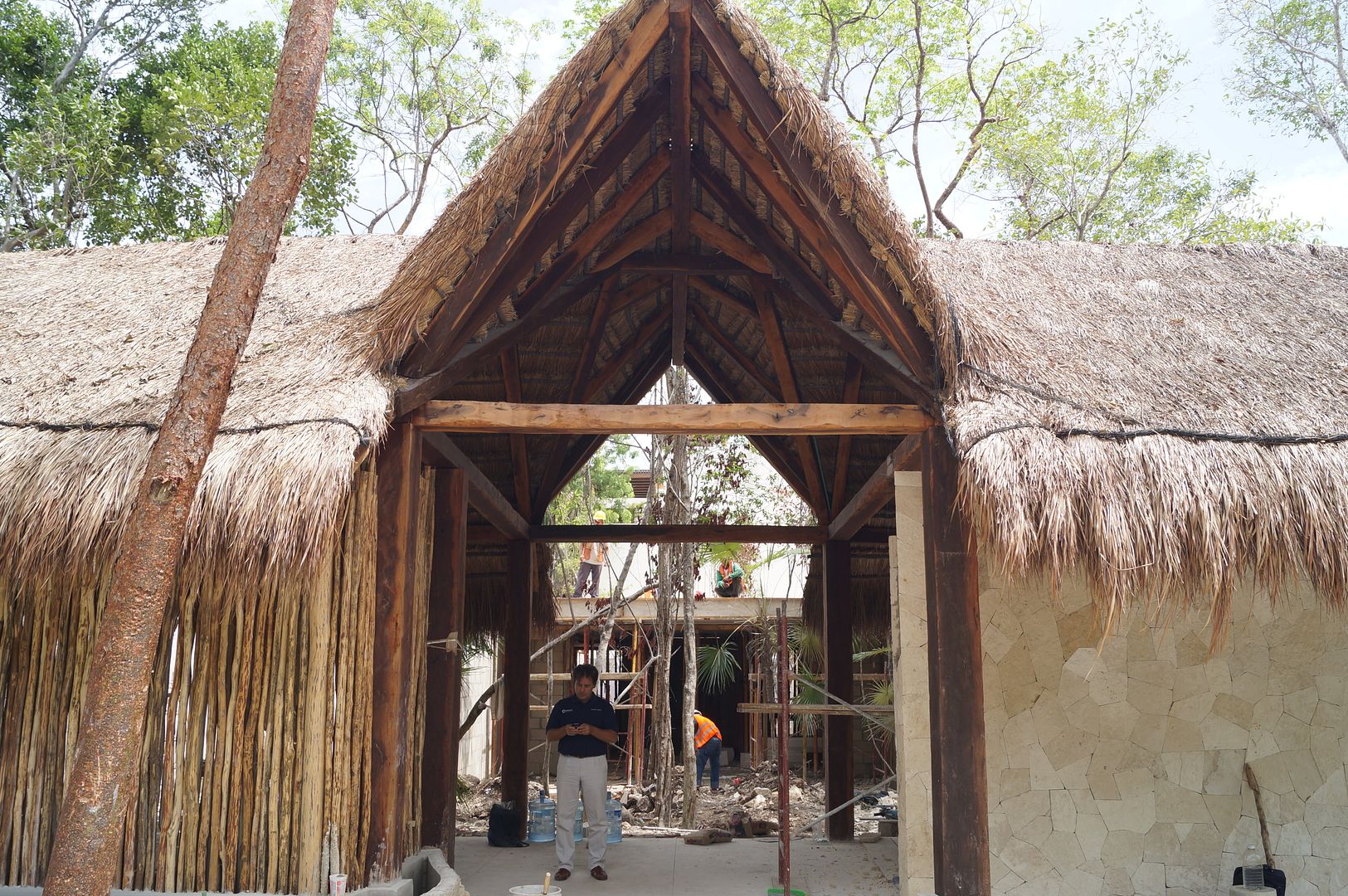 From my discovery trip in Tulum I witnessed firsthand the exponential growth in Tulum over the past year. There are many more condos for sale and new developments have started construction. The new neighborhood of Aldea Zama is on the brink of becoming a lively community. While this eco-friendly, once small fishing village has seen a lot of growth it has still managed to maintain it quaint town charm.
Now if you are interested in Tulum real estate, please feel free to contact any of our Top Mexico Buyers' Representatives who will be glad to send you a list of Tulum properties that are available and provide you with some market research about Tulum. We are here to help you find your very own piece of paradise.
And remember, here at Top Mexico Real Estate …
We make it happen!