If you've ever dreamed of what it would be like to live the lifestyle of your favorite movie star then you should consider purchasing Puerto Vallarta real estate. Richard Burton and Elizabeth Taylor are an example of the glamour that has graced this place. Their famous love story and subsequent scandal is an event that pushed this town along a path that would transform it into a world-class tourist destination. It's also the starting point of the modern-day obsession with artists and the public fascination with the rich and famous' personal lives.
Quinta del Mar is a new condominium development located on the emerald waters of Banderas Bay on the Pacific coast of Mexico. Surrounded by green mountains, it´s a golden land of sandy beaches in a place that is beautiful and magical. It was the scene for this famous love story that sparked in 1963 when John Huston arrived to film his 25th movie "Night of the Iguana". Burton eventually purchased a home there for Taylor as a birthday gift and bought himself the home across the street, adding a bridge to link the two. Starting at $701,500 USD, you can purchase a Puerto Vallarta condo and begin living the life of your favorite movie star without ever having appeared on film or in a celebrity magazine.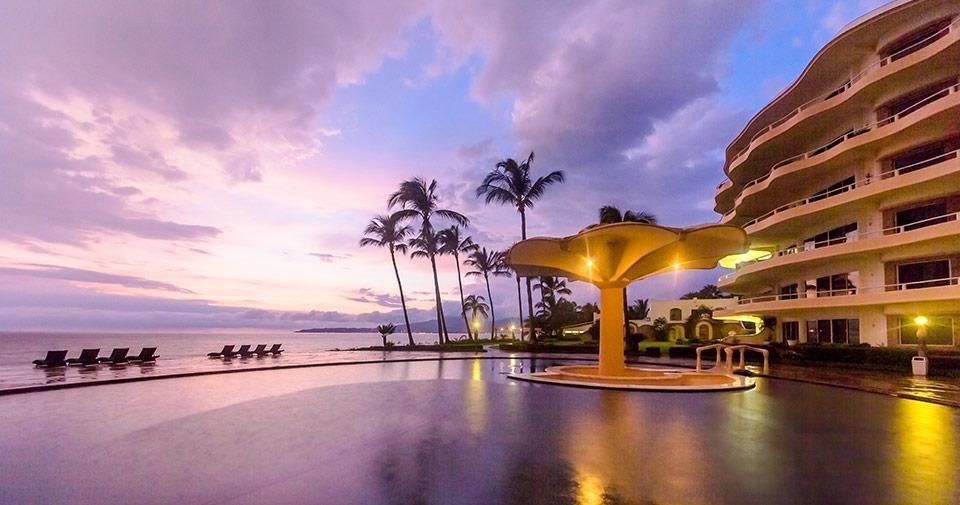 The condominiums are in Nueva Vallarta, just 8 miles from Puerto Vallarta International Airport in a one-of-a-kind gated community. It feels like a house due to the open spaces and large construction area. Quinta del Mar´s unique design features an open concept style with plenty of flowing lines that match the waves of the ocean and the curves of the mountains that surround it. The master bedroom has a huge walk in closet and the bathroom contains a Jacuzzi. There is an open kitchen with premium appliances and a spacious living area with large bar. The waters of the Pacific can be seen from the many grand windows of the property, or by sitting out on the terrace.
Once outside you can enjoy the different amenities that this place has to offer, like going for a swim in the beachfront swimming pool, enjoying a game of tennis, or maybe a workout at the gym followed by a trip to the spa. All within the safety of a 24-hour security controlled property which features closed circuit cameras in every residence. The surrounding area caters to every comfort you desire as you explore the bars, restaurants and shopping only a short drive away. You can go for a round of golf with your friends, followed by a visit to clubhouse´s bar and grill when you get hungry.
Burton and Taylor are probably the most famous couple of the 20th Century. In Quinta del Mar, you can be the star of your very own film. All that's missing is a movie poster with your face on it and an assortment of paparazzi following you around eager to take your photo.
Are you ready to be a star?
Now if you have any questions about Quinta del Mar or Puerto Vallarta real estate, please feel free to contact any of our Top Mexico Buyers' Representatives. We will be glad to help you find your very own piece of paradise.
And remember, here at Top Mexico Real Estate…
We Make It Happen!