Imagine living in the jungle, a primordial existence surrounded by dense vegetation, wildlife and close proximity to a beautiful beach. Your home is made of natural materials like Bahareque and Chukum, two natural material found in the region. The design is reminiscent of a castaway architect's luxury abode, something Robinson Crusoe may have designed were he an architect. Throw in some modern amenities and you have yourself a luxury-designed Tulum condominium complex that creates a space of tranquility and peace with the perfect blend of art and functionality to bring out the inner bohemian in you.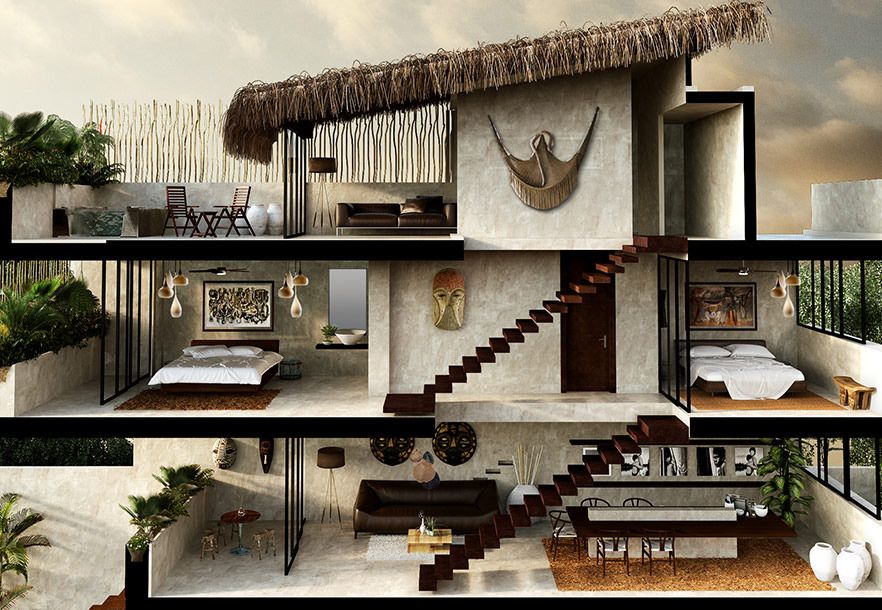 Artia is located just off the main beach highway in Tulum where the hotel zone is located. This is where you will find the Papaya Playa Beach Club, quite possibly the best amenity offered with Artia. As a new owner of one of the beautiful condos you get an exclusive membership at this tranquil setting where you can enjoy the amenities, services and friendliness offered by the beach club. These include local cuisine, a spa, a resident shaman and regular morning yoga classes. The proximity to the surf lets you enjoy snorkeling, cenotes, ocean fishing, deep-sea diving, and Mayan ruins. And there is also monthly full moon party as well.
Artia is a modern Tulum condo that mixes the latest architectural trends with local resources and materials. The condos have two bedrooms, two bathrooms and a fully equipped kitchen with quality finishes. The condos feature a beautiful patio, a balcony and a gorgeous solarium with a splash pool, BBQ and lounge area, plus an amazing view of the beach.
Artia is located within the beautiful community of Alder Zama which is a few minutes from the beach and the archaeological sites. It´s starting to build up with different developments and a pedestrian-only commercial area that will feature shops, restaurants and cafes, as well as a farmer´s market and palapa for yoga and meditation.
Artia is due to be delivered by June 2016 and you can keep up to date with construction and further information by visiting their website.
Now if you have any questions about Artia or any of the Top Mexico Real Estate properties we have listed in Tulum, the Riviera Maya or anywhere throughout Mexico, please feel free to contact any of our Top Mexico Buyers' Representatives and we will be glad to help you find your very own piece of paradise.
And remember, here at Top Mexico Real Estate…
We Make It Happen!