This past Saturday Thomas Lloyd headed to the Big Apple to host two "Learn How to Buy Real Estate in Mexico" Seminars.  It was a huge success. Attendees gathered extensive real estate knowledge from the area's leading experts and were able to ask as many question as they liked to any of the expert panelists.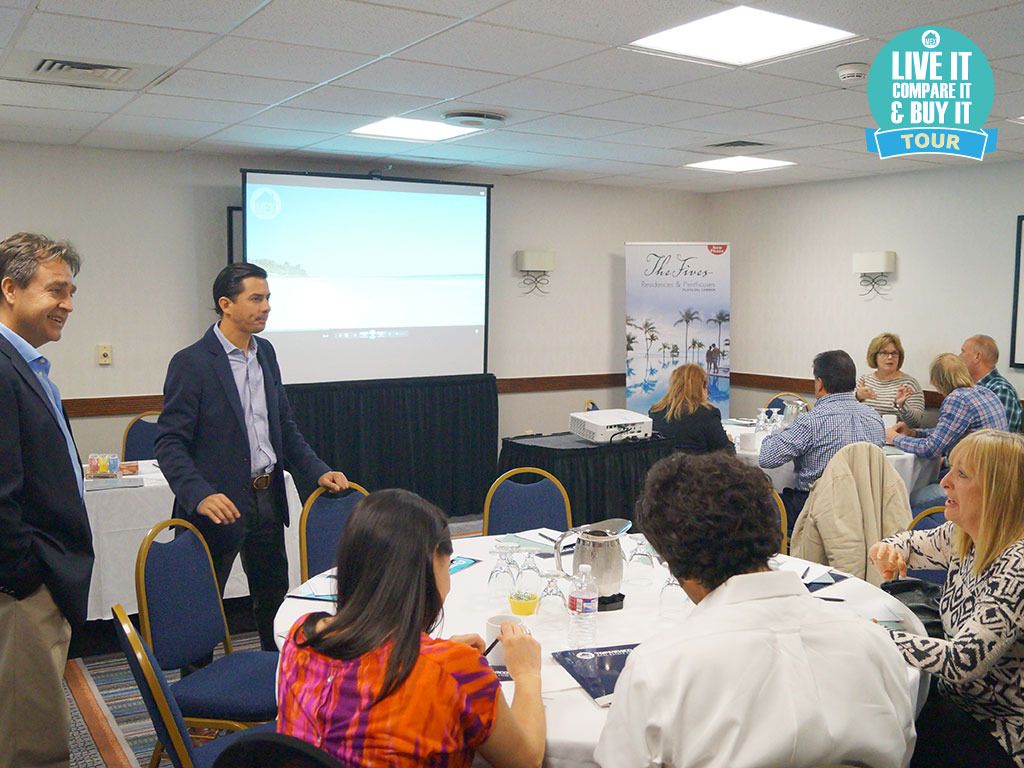 Thomas Lloyd (CEO and founder of Top Mexico Real Estate) spoke about the cost of living in Mexico, comparing it to New York and other popular retirement locations such as Hawaii, Arizona and Florida. Mr. Lloyd compared day-to–day expenses, entertainment cost, Health insurance, property taxes, HOA fees, average property prices and price per square meter. Thomas gave the attendees an idea of how much money they would be saving if they relocated or event spent part of the year in Mexico. He showed everyone how they could make their hard earned dollars stretch further and how one could live a more fulfilled life on a lot less money.
The next expert panelist to speak was Ivan Castillo (Regional Manager of Stewart Title – Latin America Division). Ivan informed the guests about the restricted zones and how foreigners can own property in Mexico. Mr. Castillo also educated everyone about how a Bank Trust works.
Alejandro Zarfino (Project Director of TM Real Estate Group) presented the benefits of owning a condo-hotel and a turn-key investment property in The Riviera Maya. Mr. Zarfino also outline the advantages of having an on-site rental and property management company there to assist you in your investment.
Additionally, Barbara and Ken (Top Mexico Real Estate clients) and fellow New Yorkers shared their experience of purchasing a property in Mexico. They showed pictures of their new home and answered questions from one client to another.
Thomas presented Top Mexico Real Estates land breaking real estate vacation program… the Live It, Compare It & Buy It Tour.  This Mexico real estate tour starts at home with a convenient online TOP Mexico 101 course; educating you on the "in's-n-out's" of the buying process, financing, living in Mexico and several other important topics for people who are considering buying an investment, vacation or retirement home in Mexico.  The live It Tour concludes in the Riviera Maya with a Mexico living experience and multiple VIP property tours; allowing you to live the life, compare the properties and choose your dream home.
The big event of the day was the grand prize raffle. Aida was the lucky winner of the 7 day Riviera Maya Live It, Compare It & Buy It Tour. Her and Her husband will soon be enjoying 5 star all-inclusive accommodations for 7 days in the Riviera Maya, an online real estate education and onsite property tours.
Attend one of our seminars and you could be next! Join us at our Connecticut, New Jersey or New York seminar in February. Would you like more information about the Live It, Compare It & Buy It Tour or the upcoming Mexico real estate seminars, please feel free to contact us at cometomexico@liveittour.info.
Here is what a couple of the attendees had to say about the New York seminar:
Thank you for hosting the seminar. It was an excellent event and I plan to view the information online soon. You will certainly be hearing from me in the very near future.
Take Care
Alexis
I just want you to know that I enjoyed the seminar in NY and am interested in the Live It Tour.
Thank you
Cheryl