On February 19, our series of FREE Mexico Real Estate seminars continues with the first event of 2016. This time the Hampton Inn & Suites in Stamford Connecticut will be the location, featuring many real estate professionals who are experts in their field. They will provide in-depth information about the process of buying real estate in Mexico. More Americans relocating and investing in Mexico, and the numbers are rising from 1 million to 10 million over the next 10 years. This is a great way to educate yourself about real estate opportunities in this exotic, tropical paradise.
Some of these guest speakers include:
Thomas Lloyd is the president and CEO of Top Mexico Real Estate.
Mr. Lloyd graduated from Krannert School of Management at Purdue University and furthered his real estate education living and working in Mexico. He has been working professionally in Mexico since 1995, and in 2011 he was the first person to ever attain the new nationally regulated Real Estate degree and professional identification number for the Country of Mexico. In 2009 he was voted Realtor of the year, because of his professionalism, attention to customers, knowledge of procedures and the Mexico real estate market. Also, he has been active in the real estate community serving on the real estate association's Honor and Justice Committee. He is currently a member of the NAR and AMPI. Mr. Lloyd founded TOP Mexico Real Estate to help non-Mexicans have an enjoyable and safe experience as they purchase and invest in real estate in Mexico. Furthermore, 20 years of experience has given him personal insight on the "ins and outs" of the Mexico buying process.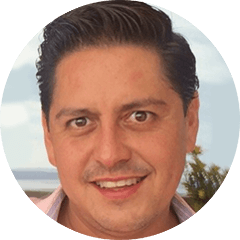 Lic. José Manuel Romero Guevara Araiza Sales Director – FONATUR
Jose Romero has a degree in Business Economics from the University of Anahuac South and a Bachelor ́s degree in law.He has been an exhibitor and guest speaker at the World Travel Market in London and the International Fair of  Tourism in Madrid, as well as running training courses for real estate professionals. Mr. Romero specializes in Commercial and Industrial Real Estate and is knowledgeable in areas such as advanced macroeconomics, projection and planning for commercial real estate, development of shopping centers, the mix of brands and the importance of   technology in economic development. He has 12 years of teaching experience in the field of economic integration law, economic theory and law, and microeconomics. His work experience includes Corporate Manager of Real Estate Development for grupo Chedraui and Commercial Director for Sare Commercial. Mr. Romero currently serves as the assistant director of Federal real estate sales for FONATUR-Ministry of Tourism.
Ivan Castillo Regional Manager – Stewart Title Latin America
Ivan Castillo is a Mexico Real Estate Attorney and is currently the Regional Manager for Stewart Title – Latin America Division in Mexico and has been for the past 11 years. Stewart Title is the leading expert in closing services, title insurance and escrow services. Mr. Castillo received his law degree from the esteemed Iberoamericana University located in Mexico City. He is also a founding member of the Mexico Real Estate Coalition; an organization which promotes Mexico to prospected buyers in foreign countries as a living destination abroad.
TOPICS
Thomas Lloyd will compare the cost of living in Mexico to other popular second home and retirement destinations in the United States. He will compare these destinations to the day-to-day expenses, property taxes, HOA fees and many others items in Mexico, along with detailed comparisons of day-to-day expenses, property taxes, and HOA fees.
Ivan Castillo will discuss how a foreigner can own real estate in Mexico, and will walk you through the Mexico buying process. He will compare ownership through a Bank Trusts and a Mexico Corporation.
You will also hear Client Testimonials where you will get first hand for several past clients and have the opportunity to participate in a Q & A session where you can ask your investment and real estate question directly to our expert panelists.
Top Mexico´s Thomas Lloyd will present the Live It, Compare It & Buy It Tour, Mexico´s real estate tour starts at home with convenient online real estate buyer's classes; educating you on the "in's-n-out's" of the buying process, financing, living in Mexico and several other important topics for people who are considering buying an investment, vacation or retirement home in Mexico. The Live It Tour concludes in Mexico with a Mexico living experience and VIP property tours.
Every one of our pre-registered guests for the FREE CONNECTICUT SEMINAR will receive a special complimentary gift, and all attendees will also receive a free entry into the raffle. There will be one lucky raffle winner who will receive a 7 Day Riviera Maya Live It, Compare It & Buy It Tour for two valued at $899 USD.
The exact address of the seminar is:
Hampton Inn & Suites Stamford
26 Mill River Street, Stamford, Connecticut, 06902, USA
6:00 – 9:00 pm.
https://goo.gl/maps/6ZPYA935ons
Sign up today! Once you have attended our seminar you will see how easy it is to own your very own piece of Mexican paradise.
See you in Stamford!