El Cielo means Heaven, a very appropriate name for a community that is quiet, peaceful and surrounded by nature. Located in the heart of Zona Diamante is this gorgeous residential area that offers a wide range of properties and is one of the fastest growing suburbs of Playa del Carmen. El Cielo offers newly constructed 1, 2 and 3 bedroom condos, patio homes, and large lots for you to build your home. European architecture and classic Mexican hacienda designs can be found here. Take a look at the video above to see for yourself.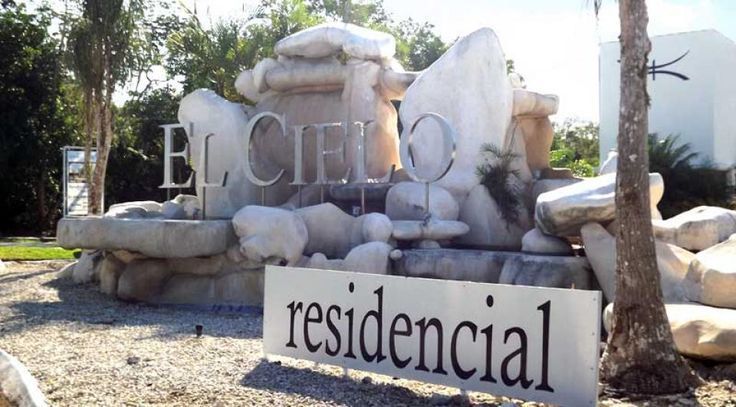 Just outside El Cielo's gates, a 5 minutes walk or 3 minute bike ride takes you to the public access beach of Xcalacoco. This beautiful beachfront area has soft white sand and turquoise water, with a few rugged areas that give the place a natural beauty. The water is very calm here thanks to the reef and the rocks, and if you look around you'll discover the pools of water where the tiny fish and crabs that inhabit the beach live. Xcalacoco is surrounded by palm trees and jungle, and is home to some upscale resorts and hotels, along with professional golf courses like Mayakoba.
Xcalacoco beach and the surrounding area are emerging as the region's next upscale place to live, laying claim to being Playa del Carmen's most exciting up-and-coming area. It's a tranquil neighborhood that is quiet and unimposing, yet close to the services found in Playa del Carmen. El Cielo's entrance from the highway is gated and manned 24 hours to ensure the best of security and peace of mind while you enjoy life in your own personal heaven.
Now if you have any questions about El Cielo, Zona Diamante or any of the Top Mexico Real Estate properties we have listed in Playa del Carmen, please feel free to contact any of our Top Buyers' Representatives and we will be glad to help you find your very own piece of paradise.
And remember, here at Top Mexico Real Estate…
We make it happen!