Beach #10 on the Countdown to the Best Beach in the Riviera Maya: Bahia Principe Beach
The Riviera Maya is an area located south of Cancun and expands south for about 80 miles, offering its visitors incredible beaches, archeological areas and many activities for all the family. This makes it an ideal destination for almost every tourist, from families, to young single adults and couples looking for a romantic getaway. The Riviera Maya has it all.
If you are one of the 10 million that visit the Riviera Maya every year, you must consider exploring different areas. One of these little known secret is the beach at Bahia Principe, an exclusive area located near Akumal that allows free access to their pristine beaches.
Bahia Principe: General Information
Bahia Principe is both a large five star luxury hotel and an exclusive residential community with many different real estate opportunities located near Akumal. Their beaches offer shallow waters, white sand and beautiful views. This little known gem is waiting for you to come and enjoy!
Even though this beach is located right next to the beautiful Bahia Principe resort, you are not going to be able to access the premises unless you are staying at the resort. It is important to bring your food and drink with you, as well as towels, umbrella, icebox or any other items you might need. If you'd rather experience everything the hotel has to offer you might consider getting a day pass for only 90 dollars.
Bahia Principe: Getting There
Address: Carr Chetumal-Puerto Juarez km 104 L36 Akumal, Quintana Roo. México.
Bahia Principe has a great location, in the heart of the Riviera Maya. It is located 60 minutes south from the Cancun International Airport, 25 minutes away from Playa del Carmen and 20 minutes from Tulum.
By Car:
From Cancun: Get the 307 Federal highway southbound (Towards Tulum) and stay on this road for about 60 miles. Once you pass Akumal, you'll notice a huge white entrance to the right and the hotel to the left.
By Bus:
You can take the bus straight from the Cancun Airport, the cost is around $15 USD for a one way ticket to Tulum, or you can opt to buy a ticket to the Xel Ha Park and take a cab from there, as it is much closer.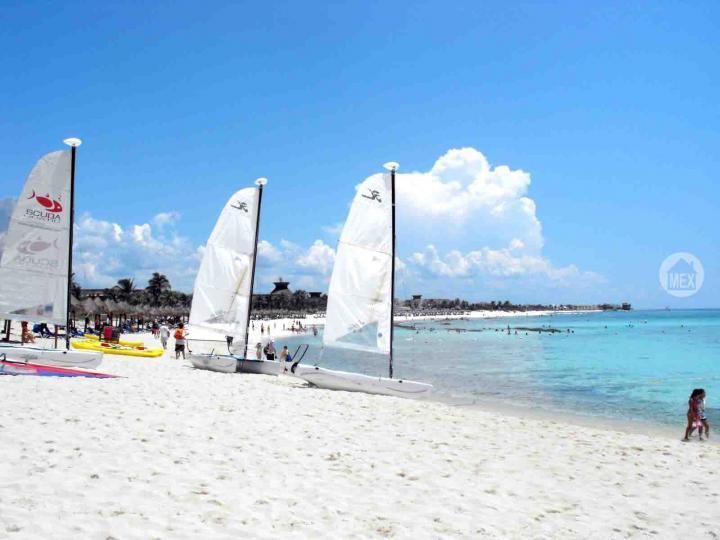 Bahia Principe: Alternative Lodging
If you want to enjoy everything Akumal has to offer, and enjoy all the amenities in the Bahia Principe hotel for a fraction of the cost, you might consider staying in one of the Bahia Principe vacation condos. This beautiful development allows its residents to enjoy a professional golf course, free access to the exclusive beach club and other benefits such as:
7 Pools
9 Jacuzzis
3 Spas
15 Restaurants
22 Bars
Disco
3 Gyms
5 Tennis Courts
Soccer and Basketball Courts
3 Kids Clubs
and many others!
We hope you enjoy your visit to Bahia Principe and the beautiful beach. Keep up to date with the best beaches in paradise by following our Top 25 Beaches in the Riviera Maya countdown every Friday! If you are in search for the perfect beach to spend the day at, make sure you check out our options. We aim to provide you with the best information about living in the Riviera Maya!
If you love the beaches at Bahia Principe and are interested in purchasing a vacation home or retirement home Bahia Principe has several real estate options, please feel free to contact any of our Top Mexico Buyers' Representatives! Browse our beautiful properties; we are sure you will find your dream home.
And remember, here at Top Mexico Real Estate…
We make it happen!