For your Mexico Real Estate purchase, the promissory contract is a legal document of very high importance.  When negotiating this contract, it is important to make sure the contract includes all the elements that make it legal, that it includes conditions in your favour, and that it does not include conditions which can cause problems for you.  The following is a "checklist" compiled from advice given by a panel of Mexico real estate agents, experts in their industries.  The following advice can be applied when purchasing Mexico Homes, Mexico land, Mexico condos and similar properties.  The following experts contributed:
Ivan Castillo – Stewart Title
Jim Scherer – Puerto Vallarta Real Estate
Linda Neil – La Paz Real Estate
Mitch Keenan – Yucatan Real Estate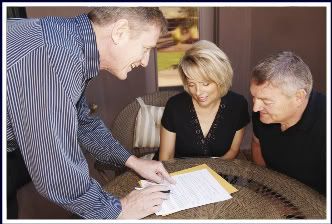 Information and details to be included in the Mexico Real Estate Contract
While some of the following items might seem obvious, it is necessary to check everything carefully.  As Mitch Keenan points out, "a Mexico real estate contract, like a USA contract has several elements that are required to make it a legal document."  If any of these basics are missing, it could cause complications in the future and may not protect your interests as it should.
To be a legal document, the promissory contract should include:
*    A written contract – a contract for real property must be written
*    Names and signatures of both Parties, buyer and seller
*    Signatures of both parties, with and date and place
*    Competence of the parties
*    Offer and acceptance
*    Agreement to bind both parties
The following information is necessary to make sure that there are no surprises.  You might be under the impression that something is included in the property, and be surprised at the delivery not to find it.  If it is not spelled out in the contract, you are not protected.
*    Detailed information of the property to be conveyed
*    Accessories that the property will contain
*    Date of delivery of physical possession of the property (if applicable)
*    The date of transfer of title
Ivan Castillo points out that the last point – date of transfer of the title – is of key importance.  In some cases, buyers have paid the FULL property amount, are in physical possession of the property, but are still not in legal possession, i.e. the title has not been transferred.  Buyers put themselves at an unnecessarily high risk by allowing such a situation.
Conditions and procedures to protect your interests
Besides this basic, but key, information, there are important procedures that should be followed and conditions that should be included in order to protect your interests as a buyer. 
Mitch Keenan lists the following procedures:
*           Your contract should be written in English and Spanish
*           You should have it reviewed by your attorney
Jim Scherrer points out the following conditions:
*           Post-dating any initial deposit check to the date of expected purchase contract signing is the ideal route to take.
*           If the purchase contract price or terms and conditions can't be agreed upon, the deposit check can be returned or stop payment ordered.
*           The promissory contract must clearly spell out all contingencies where and how the deposit money will be 100% refunded.
Linda Neil adds:
*           Avoid costly and time consuming litigation, insist upon including a binding arbitration clause in your contracts with the seller and other parties involved.
What to avoid!
Of course, you have to know what should not be in the contract.  Connected to his earlier point of specifying the title delivery date in the contract, Ivan Castillo points out the following DON'T:
*          Don't agree to delivery of a high percentage of the purchase price without delivery of title
Thomas Lloyd graduated from Purdue University Krannert School of Management with a degree in Management/Financial Option Investments. He has been living, investing, and working professionally in Mexico for over 15 years. In the summer of 2009, he received the first federally applied Mexico Real Estate Degree and Mexico Professional Real Estate License S.E.P. #5978657. He is the current president of TOPmexicorealestate, you can contact him at (512) 879-6546 or through the company's web site www.TOPmexicorealestate.com NETWORK

"Mexico's Leading Network of Specialists for Finding and Purchasing Mexican Properties Safely!"