I have been working in the Costa Maya real estate region for various years.  Many people like me, after visiting Mahahual, Costa Maya, for their first time, immediately fall in love with the area and want to find a way to help the people in the local community. In fact, many people decide to help out before even coming here. Two such ladies are Tara Shields from the US and Julie Martin from Canada.
Tara Shields originally visited Costa Maya on a cruise and has been returning for the past few years. She started "Lak'ech Project, Inc.", ( www.mexicoclinic.org ) a non-profit organization which helps provide Mahahual and the surrounding area with medical supplies.
As a Registered Nurse, her medical background will no doubt ensure that her plans to start a clinic in Mahahual will be successful. On her last visit recently she brought down fluoride and with the help of a local lady (a former dentist), Maria Denegri, she administered fluoride to all of the local school children. This is just one example of the great things she has organized here, with many new projects to follow!
Julie Martin, a professional music teacher, (www.lepetitatelier.ca) was planning a family holiday to Costa Maya and decided to volunteer her time and experience by giving free music lessons to the children of Mahahual.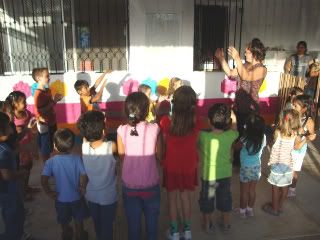 She had never visited the Costa Maya before but as she had lived in Cancun years before, she was eager to help. Staying in Xcalak, she traveled to Mahahual where she gave music lessons at the local Montessori school. Being open to all the children, it proved very popular and they loved playing the percussion instruments and being stimulated by something very different and new. These same instruments were then donated to the school where they will surely be used many times again.
Thank you to both these ladies and the many others who take effort to donate supplies and their time to Costa Maya and it's community; it really is appreciated.
On the Costa Maya real estate side, an incredible opportunity has just become available for a piece of Mexico land in Placer, to the north of Mahahual. With 16 metres (52 feet) of beachfront, this lot is in the prestigious zone where the building density is high. With the clear Caribbean Ocean gently lapping the white soft sand, some tall palm trees, the road already placed towards the back of the lot, this new Costa Maya beachfront property is the ideal place for those looking at an investment or a place to build their future home. For more details check out our listing.
Rebecca Loto is from the United Kingdom and has been traveling and living in Latin America for nearly ten years. Costa Maya has become her home residence in the past 5 years where she and her husband have settled and have become involved and active in various community organizations. Rebecca brings British business ethics and Mexico business experience together to give buyers unparalleled service. 512-879-6546
THE www.TOPmexicorealestate.com NETWORK
"Mexico's Leading Network of Specialists for Finding and Purchasing Mexican Properties Safely!"