While working with your agent to complete your Mexico real estate purchase, you will also want to start planning various parts of your life in Mexico.  One of the most important is having access to your funds from back home.
There are number of options to consider; eventually, when you will want to know the Mexico laws on setting up a bank account, and probably use wire transfers to move funds directly to this account.  Wire transfers are considered the most secure way of moving funds.  This process will also be useful and necessary during the real estate purchase process.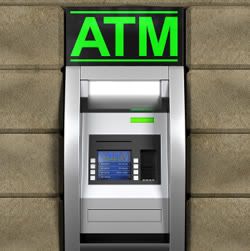 Before you've set up your own Mexican bank account, however, and for simple access to smaller amounts of funds one method to use is simple ATM withdrawals.  The following are some of the benefits of having this option in Mexico.
It can be free. Banks in the U.S. and Canada have set up ATM agreements with banks in Mexico and other countries so you can withdraw cash from your home account at no service charge.  Before leaving for Mexico the first time, consult with your home bank to see if they have such an arrangement with a bank in Mexico.  For example, if you buy Playa del Carmen real estate, various Scotiabank ATMs allow free withdrawals from Scotiabank Canada or Bank of America accounts.  Banamex ATMs allow free withdrawals from Citibank accounts.
Good exchange rates are offered. If you withdraw in pesos, you would only need to check the current exchange rate from your card.  These are often posted online and are not necessarily the same as the ones posted in the banks in Mexico – in fact, they are usually better.
It's available everywhere in Mexico. International card networks have allowed the possibility to withdraw cash at just about anywhere.  The banks which have the free withdrawal arrangements are among the most common; in addition to these, there are many professional banks with secure ATMs throughout the country.
It's secure if used properly. Like back home, you have use common sense – i.e. don't withdraw from small machines in convenience stores or obscure locations – but withdrawing from official machines in any of Mexico's modern banks is as secure as doing so back home.
Before you first arrive to Mexico, make sure you explore this option, and know where you can withdraw money without charges.  Ask your agent to let you know if the bank ATM you need is located in that particular city and if it is convenient to get to.
Thomas Lloyd graduated from Purdue University Krannert School of Management with a degree in Management/Financial Option Investments. He has been living, investing, and working professionally in Mexico for over 15 years. In the summer of 2009, he received the first federally applied Mexico Real Estate Degree and Mexico Professional Real Estate License S.E.P. #5978657. He is the current president of TOPmexicorealestate, you can contact him at (512) 879-6546

"Mexico's Leading Network of Specialists for Finding and Purchasing Mexican Properties Safely