Buying on a Budget: Part 3
In this series, Buying on a Budget, you will learn how to spot savings, where to find them and what to look for. You will learn about the Mexico real estate market, how to make your budget and how to decide what kind of real state property you are looking for. You will have all the necessary tools so that when the right opportunity arises, you are ready for it.
In this edition of Buying on a Budget you will learn the advantages of buying a pre-construction project and what you need to look for and take into consideration when looking for a property.
Pre-construction Discounts:
In Mexico, buying a pre-construction property is another way to save money. Not only do you get a brand new real estate property but you often get to pick out the final details such as the color and tile choice. These savings usually come on top of the already low prices in Mexico. Here are some points that will help you make the most of your pre-construction savings in Mexico.
Know the Market:
It is always a good idea to know the market you are about to invest in.  For example, if there are a lot of pre-construction properties on the market, it could take longer for the developer to sell their condos. Sometimes the developer will plan construction and completion around their sales and that could lead to a later delivery date of your property. But if the saving on the unit is significant, it still might be worth it for you. If buyers are interested in new properties in the area and things are selling fast, the developer could finish the development in a shorter time.
It is important to know the market and the locations you are interested in. Pre-construction could offer you a substantial saving in a high demand area or a new up-and-coming neighborhood. In certain neighborhoods, rentals are in higher demand than in other areas. You should evaluate each neighborhood to see if it fits your wants and needs. Once you have done that, you can then find the best pre-construction development that fits your budget and checks the most items off your wish list.
Know the Developer:
Something that most people overlook, but is very important to know is the developer you are about to give your hard earned money to. Find out if the developer has a good reputation. Do they have knowledge of the market and know the area? Have they completed other projects in the area? Where these projects completed on time or did they have any problems? Did the finished product look like the renderings? A good real estate agent can help you find a qualified, reputable developer in the area.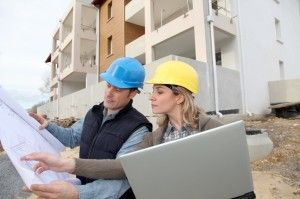 Know How the Payment Schedule Works:
It is important to know the payment schedule and how it is set up. When buying a pre-construction property there are two main payments schedules; you can pay on specific preselected dates or pay based on construction progress.
The fixed calendar schedule can give the buyer some negotiating advantages. For example, you might agree to pay a larger initial deposit, but in return for other discounts – such as saving money on the unit – you might be able to upgrade to a better unit or have the developer throw in furniture or a Jacuzzi. If the developer is reputable, the buyers can choose this payment schedule and use it to their advantage.
Choosing a payment schedule based on the construction milestones offers a certain level of protection. For example, payments could be due on a certain percentage of completion or when the condominium regime has been made and you will only pay when the milestones have been met. This type of payment schedule manages the risk, but it offers little to no negotiating leverage.
The following are some scenario examples:
The payment schedule should be very clear in the promissory contract, and you should choose the option that works best for you and your personal needs.
Choosing the Unit:
Another advantage of buying pre-construction is being able to select the best condo. Often time during pre-construction the developers will offer extra discount, like the penthouse might be offered at lower price than what the standard condo would sell for later on. The earlier you buy, the more choices you have in choosing other features such as the layout, the style of the tile, the wall colors or upgrading the lighting and fixtures. Often time, when buying pre-construction these change will not cost you anything. This amounts to direct savings.
Work with a Knowledgeable Agent:
When buying real estate in Mexico it is always best to have a knowledgeable, certified agent on your side to help you evaluate the market, developers, specific pre-construction properties and help you decide if pre-construction is a good option. A common mistake buyers make is believing that they can get a better price by going straight to the developer. First of all, the prices will be the same and the agent's commission will be the developer's expense, but you will not have an agent there to answer all your questions, guide you the process and offer an objective evaluation of the deal. Your agent will also be able help you in evaluating and negotiating the payment schedule.
Enjoy the Investment Potential:
Pre-construction property can turn into a great investment in terms of appreciation. Often the price for condos rise once the development is completed. Also, higher demand for specific areas and condos can bring prices up.
Buying a pre-construction property is a great way to save money. Inform yourself about the market and the developers, and through the guidance of a professional real estate agent, you can save a substantial amount on a pre-construction property.
The next edition of Buying on a Budget: Part 4 will cover mortgages and financing option; be on the lookout.
Now, if you have any question about buying on a budget or if you are interested in any of the TOP MEXICO REAL ESTATE properties we have listed anywhere throughout Mexico, please feel free to contact our Top Buyer's Representatives and we will be glad to help you find your very own piece of paradise.
And remember, here at TOP MEXICO REAL ESTATE…
We make it happen!