Puerto Vallarta is such an amazing place with beautiful beaches and gorgeous real estate. In the Top Ten Things to Do in Puerto Vallarta Part 1, we suggested taking a walk on the Malecon, visiting the church parish of Our Lady of Guadalupe, stroll the Romantic Zone to get a real Mexico feel, enjoy some seafood at Playa Los Muertos or go shopping in Isla Rio Cuale. So, without farther adieu here is the rest of the top ten things to do in Puerto Vallarta.
Los Arcos
Los Arcos is a National Marine Park and it has five natural granite islands with huge arches, hence the name. The islands are a very important breeding area for many seabirds, and land species like the parrot. The sea around the islands is a great place for snorkeling and diving because it is full of marine life such as fish, turtles, eels, stingrays, and many others.
Naval Historical Museum
On the south side the Malecon, right next to the outdoor amphitheater and Los Arcos, you will find the Naval Historical Museum. It offers five permanent exhibition areas including documents, maps, cartography, scale boats and ship replicas, navigational instruments, uniforms, guns and a whale skeleton.
The museum is open Tuesday through Friday from 9:00 a.m. to 7:30 PM and Saturday and Sunday from 10:00 a.m. to 7:30 PM. Admission is free.
Marina Vallarta
Another great family outing should include Marina Vallarta. This exclusive development includes a golf course, a full marina with commercial areas, as well as many condominiums and numerous hotels and luxury resorts.
Around the marina you will find many specialty shops, some very good quality restaurants, cafes, bars and even a spa.
Playa Mismaloya
In the early 60's Mismaloya was a small fishing settlement with a perfect bay, jungle and a river running into the sea, natural and wild, as there was no nearby roads and the only access to the site was by sea.
In 1963, John Huston, one of the most famous Hollywood directors of the time, filmed "The Night of the Iguana", on a hill south of Mismaloya. The movie stars and director of the film bought homes in Puerto Vallarta, which caught the attention of the media, who then promoted the place as a paradise in Mexico, causing tourism to receive a major boost.
Today Mismaloya offers a wide selection of accommodations and restaurants as well as many other activities to enjoy.
Manuel Lepe
Finally, you cannot leave Puerto Vallarta without enjoying the work of Manuel Lepe, a famous artist in Puerto Vallarta.
His works are colorful and reflect on the traditional lifestyle in Puerto Vallarta. His artwork has received worldwide recognition and has been collected by personalities such as Elizabeth Taylor, Ronald Reagan, John Travolta and many more. Even the Queen of England, Elizabeth II, has one of his paintings hanging in the Royal Museum in Windsor Castle.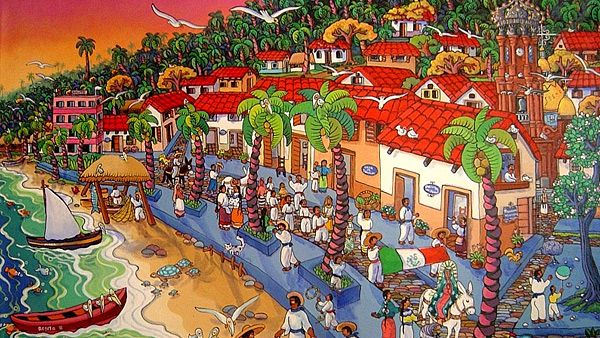 Puerto Vallarta is a beautiful place with great weather, gorgeous beaches and fantastic real estate. There are many sights to see and activity's to partake in and the beauty of Puerto Vallarta is everything that we have listed can be enjoyed with little or no money. So, relax, take in the sights and enjoy beautiful Puerto Vallarta.
Now if you have any question about Puerto Vallarta or any of the TOP MEXICO REAL ESTATE properties we have listed anywhere throughout Mexico, please feel free to contact any of our Top Buyer's Representatives, we will be glad to answer any of your questions and help you find your very own piece of paradise.
And remember, here at TOP MEXICO REAL ESTATE…
We make it happen!
We would like to thank Quinta del Mar for sponsoring this blog. Quinta del Mar is a new development in Flamingos Estates, in Puerto Vallarta. To learn more about Quinta del Mar, please click here.