Buying on a Budget: Part 5
In this series, Buying on a Budget, you will learn how to spot savings in Mexico, where to look for them and how to decide what kind of real estate property you are looking for. This series will provide you with all the necessary tools for buying real estate in Mexico on a budget. So that when the right opportunity arises, you are ready for it. In this edition of Buying on a Budget you will learn about location factors, how to save money in of the beaten path locations and up and coming areas.
Mexico real estate is competitively priced and more affordable then its equivalent counterparts in the United States and Canada. Depending on the regional factors there are some variation within the pricing. Real estate experts know that you get what you pay for, if you buy in a more expensive region, there will be more services and activities. Sometimes it is more important for a buyers to own a home on a quite beach than live in an exciting vacation destination. Other times there may be motivation for investment such as buying in an up and coming area to save money. This edition will focus on these two situations for buyers, which allow them to choose an area of Mexico where prices are still significantly lower than in the most popular destinations.
Off the Beaten Path
Mexico is a large country and there are only a handful of places that have been touched by international tourism. There are many places that are still very much off the beaten path, with undiscovered beaches, traditional little towns and colonial cities. These undiscovered places will have low prices and are ideal for buying on a budget. Finding a place off the beaten path is easy; however, the trick is finding a place that offers a quality of life that is comfortable with easy access to necessities.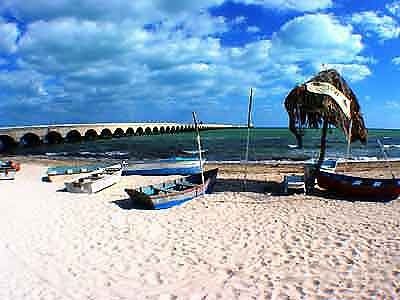 Mexico, over the past two decades has become more modernized making it easier to find a place off the beaten path that has the basics of modern living. The following are some items a buyer should look for within a reasonable distance:
International Airport – Mexico has a larger number of international airports with many direct flights to the United States and Canada. Look for a place that has an airport that is close enough that you can travel to and fly home in a reasonable amount of time.
Related : How Much Money Do You Need To Retire In Mexico?

Supermarkets – Depending on how off the beaten path you want to be, there could be a major supermarket anywhere from 5 minutes and 2 hours away. Those who choose farther distances will have plenty of smaller shops around to meet their day to day basic needs. There are also a larger number of international stores like Walmart, Costco, Sam's Club, Sears and Home Depot in larger nearby cities.
Good Hospitals – While a great deal of the modern hospitals and services have appeared in many tourist destinations as a part of promoting medical tourism, there are also excellent hospitals and clinics throughout the country. With quality doctors and state of the art equipment at a 50 – 80% lower than what you would expect to pay the United States.
Electric, Gas, Water, Phone & Internet Connections – The Modernization of Mexico has contributed to the accessibility of these services in many remote, inexpensive areas. What this means for expats is that there are many off the beaten path locations that offer the infrastructure and utilities for modern life.
Another interesting option…
Find an area that is a popular with Mexican tourists but not international tourists. These areas will have basic infrastructure and offer many services with lower real estate prices and the cost of living. Examples include:
Morelia – Morelia is a mid-sized colonial city in the country's central interior. Morelia's historical city center and colonial charm have made it a popular tourist destination among Mexicans. The investment from this tourism and a healthy local economy has brought Morelia a lot of services, including an international airport, international stores and malls.
Valle de Bravo – This quaint lakefront town is one of the most popular destinations for vacationers and weekend getaways from Mexico City. Most services are available in the town, and what is not available can be found in the booming city of Toluca an hour away.
Another approach is to look for areas with limited international tourism bringing basic services to the area while prices remain very low. For example, Costa Maya and Progreso have regular cruise arrivals, but very little other tourism activity.
Costa Maya – Costa Maya is located close to the Belize boarder. Mahahual, the main town in Costa Maya is a lively place when the cruise ships are in town, but transforms back into a sleepy Caribbean fishing village on days when they are not. Costa Maya has all the basics small grocery stores, good clinics, nice restaurants and bars. Chetumal only an hour and a half away offers a range of services and an airport.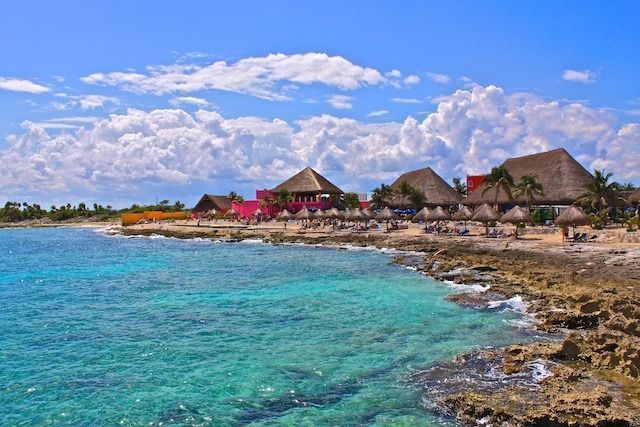 Progreso – Progreso is on the north coast of the Yucatan Peninsula also receives occasional cruise ships. Progreso has all the basic services, low real estate prices and a lower cost of living. The colonial city of Merida is only 30 minutes away, offers all services that expats could desire, including an international airport.
Up and Coming Areas
These are areas that show good signs of becoming Mexico's next big international tourist area. Mexico's tourism is growing and the government is making every possible effort to promote it. Means that existing tourist destinations will grow and new tourist destinations will emerge, some areas currently off the beaten path could be thriving tourist destinations in the near future.
The buyers who is trying to identify these up and coming areas is looking for a future lifestyle in a happening tourist center while buying a home now at a much lower price before the area takes off. The buyer can look for some large investment into tourism infrastructure, such as golf courses, marinas, upscale real estate developments and international airports.
Some of the areas listed above show promise, another promising area is the state of Campeche on the Yucatan Peninsula. The city of Campeche includes a Walmart, a good hospital and many restaurants and shops. It is one of the nicest colonial cities, the historical center is surrounded by fort walls built in the 17th century to protect against Caribbean pirates. The city is right on the waterfront and nearby there are beautiful beaches, classic little towns, Mayan pyramids and old colonial churches.
Campeche, like the areas listed above, could be appealing for a buyer looking for a low-priced beachfront that offers a quiet lifestyle away from the main tourist areas or for someone looking to the future for a lifestyle in a busier tourist area, but wishing to save money now.
But what about the buyer who would rather have the trendy cafes, modern shopping malls and international golf courses, can they find areas with low prices? They certainly can if they consider more local, community location factors, and that's the topic of the next edition of Buying on a Budget. Save money and be on the lookout!
Now, if you have any question about buying on a budget or if you are interested in any of the TOP MEXICO REAL ESTATE properties we have listed anywhere throughout Mexico, please feel free to contact our Top Buyer's Representatives and we will be glad to help you find your very own piece of paradise.
And remember, here at TOP MEXICO REAL ESTATE…
We make it happen!