Considering buying Mexico real estate, there are many motivations to buy in this beautiful country. Here are the top 10 reasons to buy Mexico real estate.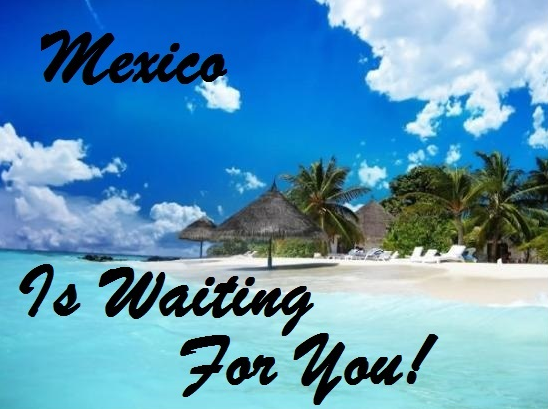 Tourism is Growing – Mexico's tourism continues to grow each year. Mexico is the #1 international destination for U.S. residents. U.S. tourism was up 24% last year with a record number of 25.9 million visitors, according to the U.S. Commerce Department. Additionally, it is quickly becoming a first choice retirement and second home location for many American and Canadians. Be ahead of the game and invest in Mexico now.
Growing Economy – Better infrastructures and new services are being introduced all the time in Mexico. Many of the stores and comforts you have at home are showing up in Mexico. As the economy grows so does foreign company investments in Mexico. Right now is an ideal balance between low real estate prices and comfortable living. Invest now, lock in a great real estate price and watch the economy grow. Getting in on the ground floor will only save you money in the long run.
Life Too Hectic – Many of us complain about working too much. Never having the time to do what we want.  Not being able to relax, go on vacation or spend more time with our families. Isn't it time for a change? Be a part of the Mexico laidback lifestyle. Be part of a culture that puts family first and where the all mighty dollar will not rule every decision you make. It's time to trade in your crazy hectic life for a relaxed laidback life!
Friendlier People – According to the 2015 World Happiness Report, Mexico is the 14th happiest country of the 158 covered by the survey, putting it just before the United States. Imagine a friendlier, kinder city where strangers on the street smile, wave and often take the time to get to know you. Mexico is a place where people value life and others around them, thus creating an environment where you too can relax, enjoy life and those around you.
Escape the Cold – Year after year you suffer through the cold winters. Each year you think to yourself, this is not as much fun as you once remember it to be. You find yourself often complaining about the weather, the snow and the aches and pains. Why? Life is too cold up north, escape the cold… sunny Mexico is waiting!
Location, Location, Location – Mexico is close to home… your friends and family can visit in just a few short hours. Due to the tourism increase, many airlines have increased their number of direct flights from the United States and Canada making it even easier to travel to Mexico.
Lower Cost of Living in Mexico – Everyone who has made the move to Mexico has come to the realization that they can live a much more fulfilled life in Mexico on a lot less money. Everything from entertainment to groceries, even luxury items that you might not have been able to afford are now within reach such as having a housekeeper or getting a relaxing spa treatment. Stretch your retirement fund and live a more fulfilled life in Mexico.
Quality Medical Care – There are excellent medical care facilities and hospitals in all major cities and tourist destinations. In addition to the low cost of living, you can also expect to pay less for medications, doctor visits, hospital stays and private health insurance, sometimes up to 80% less. You will never need to go without medical care simply because you can not afford it.
Rising Property Values – Growing tourism, a stable better economy, higher standard of living, and more and more Americans moving to Mexico… sounds like it could be a recipe for higher prices. Property values in Mexico are only likely to up in the future.
What Are You Waiting for? – If you're like so many other people, you've been thinking about moving to Mexico for quite some time now. You have been vacationing here year after year and you always say some day. Why wait? Enjoy paradise NOW!
Start your new life in paradise now! Investing in Mexico real estate and moving to Mexico is such a wonderful experience.  What are you waiting for? Mexico is waiting for you!
Now if you have any questions about Mexico real estate, please feel free to contact any of our Top Mexico Buyers' Representatives and we will be glad to help you find your very own piece of paradise.
And remember, here at Top Mexico Real Estate…