Close your eyes for one second and imagine what it would be like to be sitting in your living room, taking deep breaths of the delicious ocean breeze, seeing the calm and gorgeous sea steps away from you and being surrounded by beauty and luxury. This could be your life in Quinta del Mar.
Located in Nuevo Vallarta, just 8 kilometers north of the Puerto Vallarta International Airport, you can find Los Flamingos Estates. Not only do they pour comfort, relaxation and luxury, but also they have one of the most beautiful beaches in the world. Within Los Flamingos Estates lays is Banderas Bay and here wherein you will find luxury at its finest. You will be surrounded by green mountains, and blessed with the golden touch of the sun every day at home.
Quinta del Mar is a beautiful condominium complex offering top of the line luxury condos for people like you. The condos feature an open style architectural design, which allows the flow of air and elegance throughout. The structure is shaped to mimic the waves of the ocean and the curves of the nature that surrounds it. Although these are condos, their size makes them feel like a home.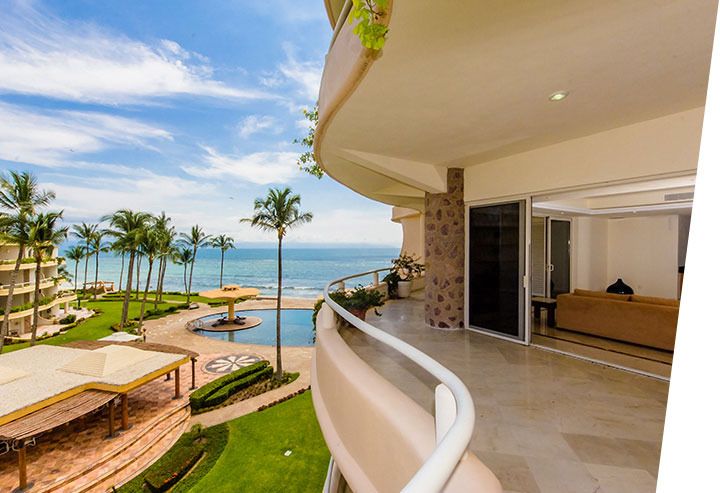 Every room in the condos offers a view to the ocean. The master bedroom is huge and has a unique en suite bathroom with a bathtub deserving of Hollywood stars. The bathtub itself is a front row seat to some of the most stunning views of the emerald Pacific waters. The open kitchen connects with the living area and features top of the line appliances.
The terrace – which you can access through the grand sliding glass doors in the living room – offers a panoramic view of the ocean and provides an excellent place for gatherings. But, why are you living by the beach if you're spending all this time at home?
The complex has an endless list of amenities. Whether you want to enjoy a friendly tennis match in the beautiful tennis courts, or do some laps in the extensive and breathtaking swimming pool, you're in for a ride. The gym and spa add a relaxing atmosphere to the already tranquil property. There is also a restaurant to try some delicious seafood specialties worthy of a UNESCO World Heritage title. If you want to invite family and friends over, you don't need to entertain them in your condo; you can take them to the clubhouse where you will be able to enjoy a bar and a grill. Sounds like a dream come true.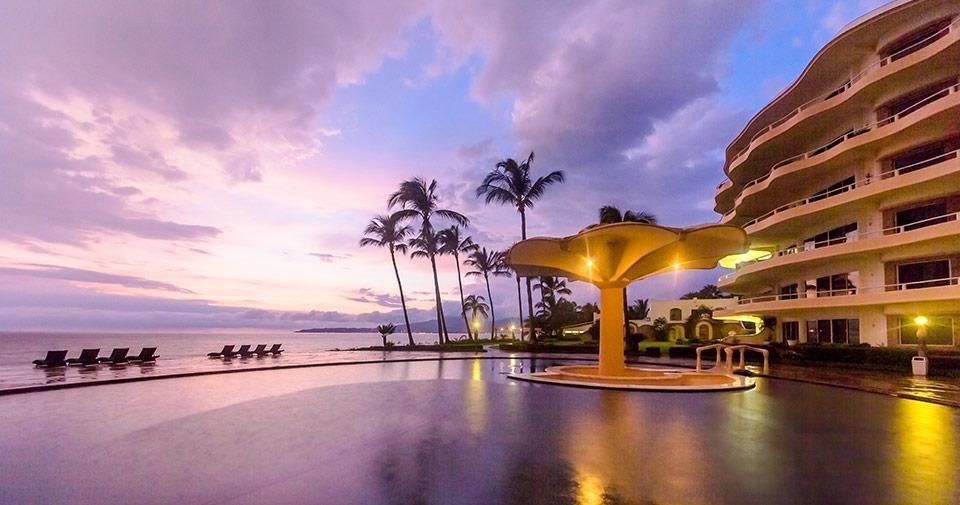 If you've ever wondered what glamorous personalities are worthy of this lifestyle, the answer is you. Just like every celebrity out there, you deserve privacy and safety. That is why the 24-hour security, controlled access and closed circuit cameras in every residence provide the upmost security for your enjoyment.
Richard Burton and Elizabeth Taylor already graced the area with their elegance and glamour, and so have many other stars, and you're on the waiting list. Are you ready to take on the luxurious lifestyle of a movie star.
If you have any questions regarding Nuevo Vallarta, Quinta del Mar or any of the many properties we have listed throughout our website, feel free to contact us. Out team of Top Buyer Representatives will be happy to help you find your way to stardom with a property in paradise.
Remember, Top Mexico Real Estate… we make it happen!