Yoga continues to grow in popularity as a way to stay fit, and more people are taking it up as part of their exercise regime. Those who are looking to relocate to the Riviera Maya will be happy to know that there are many places to choose from where you can practice  Yoga, including affordable retreats and even teacher training courses. From cosmopolitan Playa del Carmen to the Tulum you will find something that meets your body´s needs to stay fit.
Below are is a list of some of the favorite places where you can practice Yoga in the Riviera Maya.
Yoga in the Riviera Maya: Yoga by the Sea
Rooftop of the Soho Hotel
10th Ave and Calle 24
Playa del Carmen
Phone:+52  (984) 876 2653
Yoga by the Sea is located in the heart of downtown Playa del Carmen, steps away from  5th avenue and the beach. It´s been here for over a decade is also accredited with the Yoga Alliance®, with a team of highly trained teachers who offer yoga classes and teacher training. It´s a favorite of many people who live here and for visitors.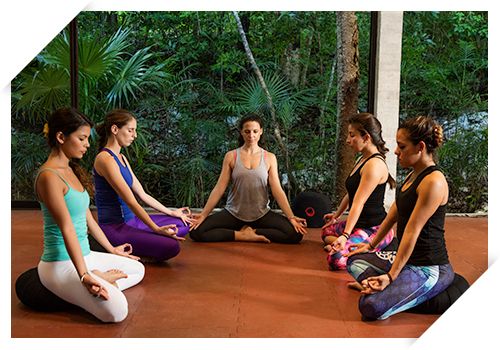 Yoga in the Riviera Maya: TAO Wellness Center

Bahia Principe Residential Complex
Akumal, Mexico
Phone:+52  (984) 875 5007
Akumal is located between Playa del Carmen and Tulum and the Tao Wellness Center is inside of the Bahia Principe Resort. In addition to having a Spa, juice bar, steam room, the Tao Wellness Center offers a variety of Yoga classes with qualified instructors inside of beautiful Caribbean style architecture surrounded by jungle.
Yoga in the Riviera Maya: Amansala Tulum

Carretera Tulum- Boca Paila km. 5.5
Tulum, Mexico
www.amansala.com
Amansala has three different locations in Tulum, each of them with terrific views and great facilities for practicing yoga.  This is a very popular yoga destination with facilities that are located on the beach for yoga, detox and fitness retreats.  Tulum is one of the most popular places to visit in the Riviera Maya and it´s not surprising that you would find a place like Amansala with it´s focus on taking care of your body and soul. Visit their website for more information about their different classes.
If you are looking to purchase a property in the Riviera Maya that will allow you to take advantage of one of the above mentioned yoga facilities please contact one of our Top Mexico agents who will be happy to show you available houses and condominiums nearby. 
And remember, at Top Mexico Real Estate,
We make it happen!