Tripadvisor, the world´s largest travel site, has named Tulum as one of its´top destinations on the rise. The formerly walled city was one of the last to be built by the Mayans, and its archaeological sites are incredibly well preserved. Tulum is a small eco-friendly town located 80 miles south of Cancun. It´s a gorgeous and hip town, so it´s no wonder that Tripadvisor would be impressed by its´stunning blue waters and cool white sand. The main archeological site of Tulum is built on a cliff that overlooks the beautiful Caribbean Ocean and the town is known for being eco-friendly, chic, and welcoming of people from all over the world.
One of the areas in Tulum that makes this such a great place to live is the community of Aldea Zama. It´s located on the only road that leads you to the beach in Tulum. This community is home to many developments, many of which are within walking distance to the beach. It´s like a world of its´own within this cool bohemian town. This neighborhood is the only planned residential community that exists in Tulum and most of the properties within it are condominiums, along with a few single family home lots. The architects that have helped in the development of Aldea Zama have created beautiful designs in the region making the neighborhood very eye catching. Approximately 15 single family homes exist for sale in the area as well. There´s no denying that the beaches of Tulum are some of the most beautiful in Mexico.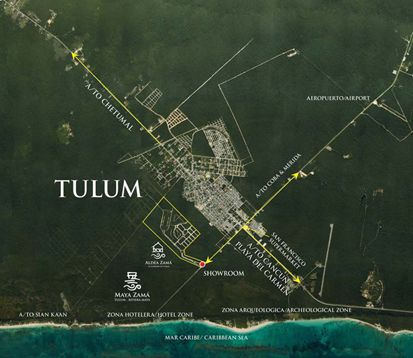 In either direction of highway 109 are white sandy beaches and crystal clear waters. To the north the small lane leads you to the tropical jungle right be the Caribbean ocean. After a few miles driving you will find several beach clubs that will charge a small fee or ask you to drink or eat something in return for their use. You´re also a short bike ride or drive away from the only Mayan archaeological site on the cliff overlooking the sea. If you drive further down the conjunction on highway 109 you will reach Sian Ka´an, a natural biosphere reserve that is home to over 300 types of birds and 100 mammal species. Here you will find eco-friendly boutiques and beaches to die for. These beaches are often the backdrop to commercials, fashion shows and photo shoots.
The commercial centre of Aldea Zama has yet to be fully developed. There is expected to be convenience stores and other markets. Within 5 minutes walk right outside the community there is a large national grocery store new in Tulum. This is the largest one in Tulum offering a wide array of food, beverages and much more. For the sports enthusiast who loves swimming the condominium development within Aldea Zama offer pools as part of their amenities. Tulum is a bike friendly city, and this neighborhood has bike paths that lead directly to the highway 109 bike paths for easy access to Tulum downtown, the beach and other areas. You will also find a beautiful park with a cenote and the jungle is filled with wildlife like spider monkeys, foxes, deer and other animals.
If you are looking to explore these properties and the area surrounding them, why not join us for one of Top Mexico's Live it Tours? It's a great way to get to know them and enjoy a nice vacation at the same time. To book yourself in for the next tour and see the Top Mexico Real Estate properties we have listed in Tulum please contact one of our Top Mexico Buyers' Representatives. We will be happy to assist you and help you find your very own piece of paradise.
And remember, here at Top Mexico Real Estate …
We Make It Happen!