Swimming with the turtles in Akumal is a once in a lifetime experience you cannot miss. For centuries or even millennia, turtles have nested in the rocky shores of Akumal where the eggs are left to hatch and re-start the cycle of life.
The presence of this magnificent creatures probably impressed the ancient Mayans, who called this area in the coast, Akumal; "The Place of the Turtle."
There are seven known species of turtles in the world, and all of them are endangered species; three of them can be seen at the Akumal beaches and two of them nest on the beaches of Akumal.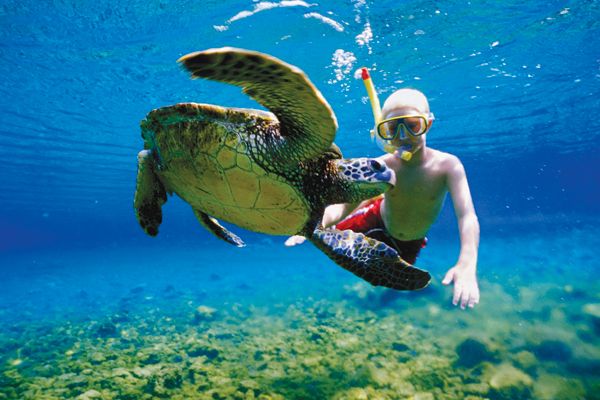 Swimming with the Turtles in Akumal: Species found in the area
LOGGERHEAD TURTLES (Caretta caretta):
Adults weigh from 100–200 kg and grow to 1.15 m in length; this species feed primarily on shellfish such as crabs and snails. Nesting season is between April and July, and females nest 3–7 times every season, with approximately 120 round, white eggs in each nest.
GREEN TURTLES (Chelonia mydas):
Adults weigh between 100–250 kg and grow to 1.2 m in length, this species feeds primarily on sea grass. Nesting season is between June and September, and female nests from 3–7 times a year and each nest contains 120–150 round, white eggs.
HAWKSBILL TURTLE (Eretmochelys imbricata):
Adult hawksbill sea turtles weigh around 80 kg and have been known to grow up to 1 m in length, and this turtle's favorite treat is toxic jellyfish. Please note that this species doesn't breed in this area, but some specimens can be seen swimming in Akumal.
Swimming with the Turtles in Akumal: Participate in the conservation effort!
Since its foundation in 1993, Centro Ecológico Akumal (CEA) has had one mission:  protect nesting sea turtles. CEA runs several programs and preserve the natural environment on the Akumal coast.
Their program is operated through a government-authorized management plan for the protection, conservation, research and management of sea turtles on four local beaches. CEA staff and volunteers patrol the beaches nightly to identify and protect nesting females, their nests and hatchlings.
VOLUNTEERING:
Volunteers are always welcome, keep in mind this is a physical job that might take a toll on your body. Also the nesting and hatching of the turtles happen mostly during after dusk, so prepare yourself for some sleepless nights.
Volunteers must be willing to cover other educational and promotional positions, and speaking at least two languages is a requirement. Prior knowledge is not required, the volunteers have to have an enthusiastic and adventurous personality and be willing to adjust to a different environment and culture.
General Requirements for Volunteers:
Must be 21 years of age or older.
There is a selection process, not all applicants are accepted.
There is a 2 months minimal commitment to the program.
There is a monthly fee that helps cover for the program expenses. The cost is $200 USD (foreigners) or $100 USD (Mexicans). The payment is due one month before the start of the program.
A valid passport and visa or FM3 for the length of your stay is required.
It is your responsibility to ensure that you have all the recommended vaccinations.
You should have valid insurance for medical services.
Swimming with turtles in Akumal is a dream for many, but helping preserving the species and the environment is a life changing experience.
Here at Top Mexico Real Estate we pride ourselves on promoting local organizations working to preserve the beauty of the Mayan Riviera. Visit the Centro Ecologico Akumal (CEA) website at ceakumal.org to learn more about their programs or to make a donation.
We would like to thank Quetzal for sponsoring this blog. Quetzal is a new development in Bahia Principe. To learn more about Quetzal, please click here.