Beach #25 on the Countdown to the Best Beach in the Riviera Maya: Sian Ka'an
The Sian Ka'an reserve is one of the most fascinating beaches in the Riviera Maya; it is located 86 miles south of Cancun and about 5 minutes away from Tulum. Sian Ka'an has been declared a World Heritage Site by UNESCO, and it is the largest protected area in the Mexican Caribbean (approximately 1.3 million acres).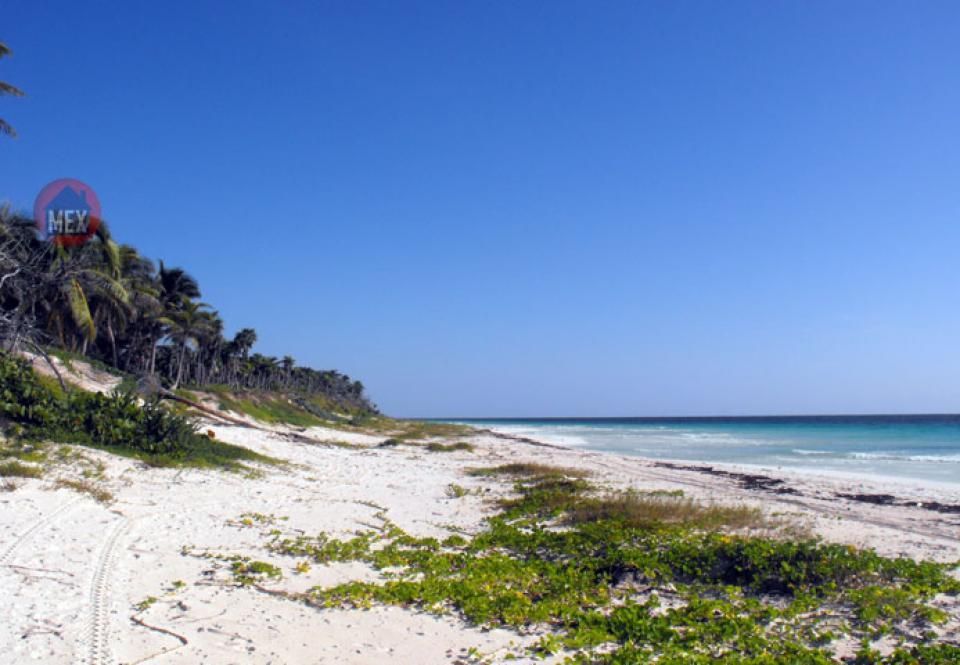 If you love nature, Sian Ka'an has a lot to offer; there are over one 1,400 species of plants, as well as more than 300 species of resident and migratory birds. There are also pumas, ocelots, jaguars, tapirs, howler and spider monkeys, white tail deer, wild boar white cheeks, manatees, dolphins, crocodiles, and several species of sea turtles that call Sian Ka'an their home.
Additionally, Sian Ka'an faces the Mesoamerican reef, home to hundreds of species of fish and other marine wildlife. If you like diving or snorkeling, you will discover an endless show of sponges, pink conch, starfish, sea urchins, and spiny lobsters, just to name a few. And if your thing is fishing, there are plenty of areas where you can throw out a line and see what bites.
Sian Ka'an Beach: Getting there
If you are coming from Cancun or Playa del Carmen, take Highway 307 South, towards Tulum. When you reach Tulum itself, you get to the first big intersection with traffic lights and the San Francisco de Asis supermarket. Here, you will turn left towards the Tulum beach hotel zone (follow the street sign that says Boca Paila).
At the end of this road, follow the road to your right. This is the Tulum coastal road and you will drive past lots of small hotels and cabins. You will then reach the Mayan Arch, the entrance to the Sian Ka'an Biosphere Reserve. There will be guards there to greet you and collect the entrance fee.
Sian Ka'an Beach: Things to do
Driving into Sian Ka'an is an adventure itself. The road leading into Sian Ka'an is a dirt road. During the rainy season, it can get quite muddy. If you are renting a car, make sure to rent a Jeep or something similar; a smaller car might have trouble getting in and out.
If you don't have a lot of time, make sure you visit the old wooden bridge. There are plenty of people around this area camping, fishing or just having a picnic. Also, there are several secluded beaches to visit in the surrounding area.
Another idea is to visit the Chunyaxche / Muyil channel. You can take a boat tour in the sinuous channels that run between the mangroves. In this tour you will be able to admire hundreds of birds, Mayan ruins surrounded by water, coastal lagoons, wetlands, and so much more. Make sure to reserve this tour in advance!
Sian Ka'an Beach: Recommendations
While you're not traveling to a completely isolated area, it is a good idea to have precaution. Make sure your car is in good conditions, fill your gas tank (it is a 42km one-way drive and there are no gas stations in there). Make sure to bring a spare tire. Since the roads are dirt and rocks, it could come in handy (better be safe, than sorry!).
Even if you plan on just visiting for a few hours, you might find yourself wanting to stay longer. Take supplies with you such as drinking water and snacks or non-perishable food for when you get hungry or thirsty (it can get hot, you'll be surrounded by jungle).
There are many mangroves in the area, with all sorts of insects who tend to be particularly vicious early in the morning and at dawn. Take biodegradable insect repellent with you. Keep a bottle of OFF! Or DDT based repellent in your car as some insects – such as gnats – are not bothered by the Citrnoella.
If you plan on staying on the beach all day, bring biodegradable sunscreen. Also, don't forget to pack things for sunburns, scratches and bites…a lot can happen in the wilderness!
In short, Sian Ka'an is like being in heaven for those who truly love to be in contact and at one with nature. It is a unique paradise!
Learn about the different beaches in the Riviera Maya, and count down with us every Friday at the Top 25 Beaches in the Riviera Maya.
If you are looking for a beautiful real estate property surrounded by nature in Sian Ka'an, Top Mexico Real Estate can help you find the house of your dreams!
And remember, here at Top Mexico Real Estate…
We make it happen!