It's that time of the week again when you start planning your next weekend getaway. The Riviera Maya is so vast that living in Playa del Carmen doesn't really give you a great idea of everything there is to see. So this week, we are running away to the Magical Town of Bacalar! Are your bags pack? Let's go!
How to get there
Bacalar is located approximately a three-hour drive south of Playa del Carmen (four if you're coming from Cancun). The best way to reach this beautiful town is by renting a car and driving. This allows you to move around Bacalar easily without having to rely on public transport within the town.
Once you have your car, head onto the Federal Highway 307 heading south and following the signs that read "Chetumal". Once you have passed Felipe Carillo Puerto (where you should definitely stop for breakfast at the market), be on the lookout for signs that read Bacalar. There is no "taking wrong turns" as it is fairly easy and straightforward.
If you are not into driving and would rather be taken, you can take an ADO Bus from the Playa del Carmen terminal, which will take you to the town. It takes approximately 4 hours and costs $240 mxn one-way.
Where to stay
Bacalar is quite a small town, sitting on the edge of a lagoon. Accommodation varies in quality and price, as in any other place on Earth. However, to get the great experience of waking up to the beautiful colors of the lagoon, a hotel by the water's edge is ideal. You can choose from more rustic, eco-friendly hotels to more modern ones. Don't expect to find 5-star resorts, as most hotels here are locally owned and have seen better days, but are still charming and comfortable.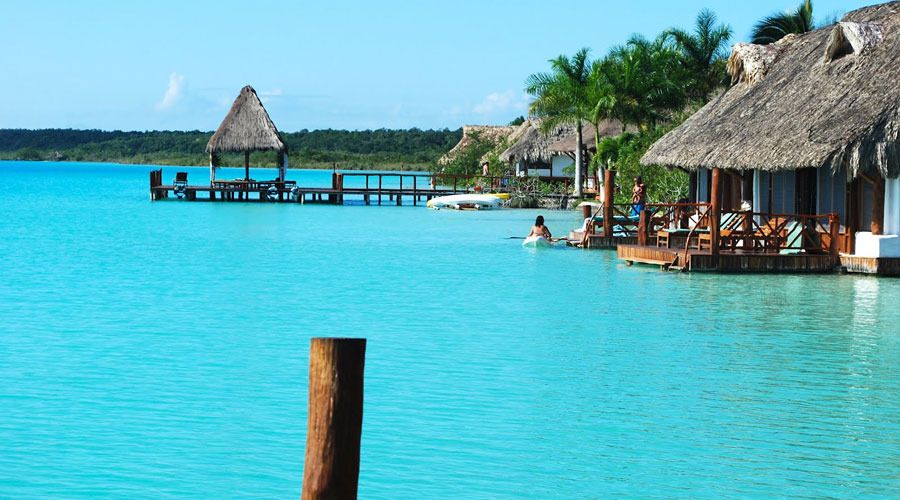 You should also consider a hotel that has hammocks hanging over the shore! Nothing beats getting up in the morning, enjoying breakfast and just relaxing on a hammock counting the colors in the lagoon.
What to do
Bacalar may be small, but there are plenty of things to do there. Other than just relaxing by the lagoon (which you should definitely put on your list as a priority), you could take a tour to cross the lagoon and possibly see some local wildlife. The lagoon is the second largest fresh water lake in the country, so it's not something to be overlooked.
For the adventurous bunch, visiting (and eating) the Cenote Azul is a must! This waterhole is 90 meters deep and of an intense navy blue. Nothing can really be seen downwards because of its depth and small amount of light it receives, but there are friendly fish on the surface, an upside down boat to hang around in, and a restaurant serving delicious Yucatan food.
Take a tour to San Felipe Fort. Located in the heart of Bacalar, this small fort has a lot of history. Initially built to fight off pirates, who would come to the town to steal corn, the fort stood up there for years and is now an iconic landmark of the town. You can't leave without visiting – costs are quite accessible and tours are available all day long.
Bacalar is not by the ocean, so if you are really looking forward to spending a day at the beach, you should drive down to Mahahual to spend the day. This beautiful town is located approximately a two-hour drive from Bacalar and has some of the most beautiful beaches in the region.
Shopping and eating
As mentioned before, Bacalar is a small town, ran mainly by locals. Restaurants are found throughout with local Mexican and Yucatan food (don't expect menus in English!). But hey, you are in a country whose cuisine is a UNESCO Intangible Cultural Heritage, so you surely want to eat some of that deliciousness!
Shopping in Bacalar is quite limited – for the same reason. However, the road to Bacalar will present you with many options for buying tropical fruits, hammocks, carved wooden souvenirs, and much more.
Recommendations
Bacalar is a must see in the Riviera Maya – so make sure you don't leave without visiting! We recommend a long weekend so you can runaway for a day trip to Mahahual (although that can be a weekend getaway on its own).
Bring cash! Bacalar is a small town and some places might not take credit cards – especially foreign ones. So make sure you have some cash handy to pay any souvenirs, cenote visits, tours, amongst others.
Among other activities you can do in Bacalar is take a stroll through Downtown, the plaza that is directly across from San Felipe Fort, and take in the gorgeous and colorful Caribbean houses. There are also Mayan ruins near Bacalar that you can visit such as Chacchoben.
We recommend you take a translation app or study up your Spanish before visiting. Although most tour guides speak broken English, if you plan on visiting local restaurants or shops, you might find yourself lost in translation.
One weekend comes after the next, and if you're in search for amazing adventures, check back next week for a new weekend getaway destination!
Top Mexico Real Estate is an American-owned real estate company based in Playa del Carmen. With a focus market of Americans and Canadians, our Top Buyer Representatives are happy to help you relocate to paradise and help you find your paradise home.
And remember, here at Top Mexico Real Estate…
We Make It Happen!