We often talk about heavenly food, drinks that make you fly, or even a restaurant that makes you feel like you are in heaven. Well, now you can actually taste, drink and live breakfast, lunch or dinner in the sky! For years, Dinner in the Sky has gone around the world taking people to a very high experience. Based in Belgium, this novelty restaurant (namely one of the top 10 restaurants in the world, according to Forbes), has stablished in cities around the world bringing people closer to the heavens.
Although it is not new in Mexico, it is the first time it establishes itself in the Riviera Maya…and you're in for a ride! If the views of our beautiful paradise with your feet on the ground so breathtaking, you can only imagine what they're like 50 meters up in the air. In their original website, they talk about giving guests a one of a kind experience with total safety and exclusivity. Hosted by Events in the Sky, this event can be hosted anywhere, from beaches, to golf courses, to the middle of the street.
Offering breakfast, lunch, dinner, or cocktails, Dinner in the Sky offers space for 22 people at a time. Part of the ritual is arriving early, getting a safety instruction talk, and then accommodating everyone around the table that will then be lifted into the sky 50 meters by a crane.
April 2015 marks the date of when Dinner in the Sky will officially open in the Riviera Maya, so start saving up because, yes, their packages are costly, but all for a good reason. The safety and technology systems, the staff, the crane, and the delicious food and astonishing view are all worth every penny you will invest.
Menu and Prices
As mentioned above, you can choose between breakfast, lunch, dinner or cocktails – you can also reserve the whole table for a private event where you can choose your menu and time of your event.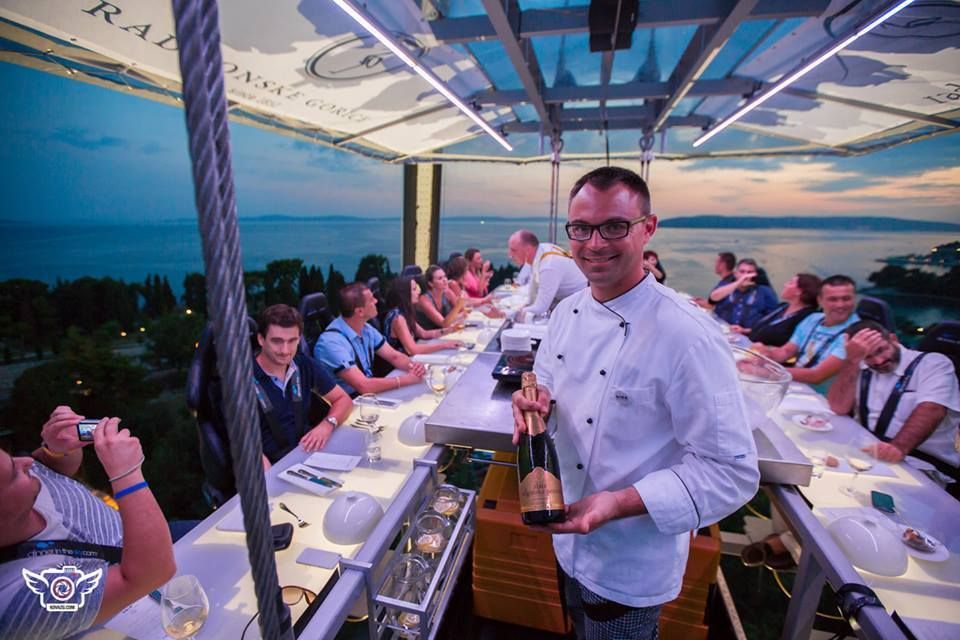 Breakfast
Price: $1,800 mxn per person
Length: 1 hour
Menu: Grilled apple with honey and cinnamon; rested mass bread filled with grilled mushrooms, and gratin, baked eggs with dill; banana pancake with three milks sauce; bread, juice, hot chocolate and coffee.
Lunch and Dinner
Price: $2,500 mxn
Length: 1 hour
Menu: Chicharrón cream with pumpkin seeds; carbonara tagliatelle over a filet medallion with Peperonata; cocoa brownies with macadamia and mint; all food accompanied by red and white wine.
Cocktail
Price: $1,800 mxn
Length: 1 hour
Menu: Cherry truffle with cream cheese and caramelized sesame; marlin chalupas with chipotle and agave honey; carpesse pintxo with basil olive oil; chocolate and mezcal truffle; squash, cheese and bacon quiche; pink ceviche; asparagus wrapped with ribeye with balsamic caramel; tomato bread with chorizo and marinara sauce.
*Prices and menus are subject to change
Whichever package you choose, you are sure to enjoy a unique experience surrounded by friends, family or strangers, all as excited as yourself about having food and drinks so high up. Make sure you get your reservations in soon, because this is an event everyone wants to experience and seats sell out quickly.
Location
Dinner in the Sky: Riviera Maya has yet to announce their location, but wherever they may be, you are sure to have a one of a kind view of the Caribbean Ocean and the Riviera Maya! Check out their website or give them a call to ask about the exact location.
Discounts
As with every new thing that opens in the Riviera Maya, discounts are available. If you have a Mexican ID from Quintana Roo state, you can enjoy a discount when making your reservation and paying the full fee.
If you are hosting an event that will take up the 22 seats, you get a 10% discount off the total price!
Dinner in the Sky has gone around 40 countries and countless cities; in Mexico they are operated by Experiencias en el Cielo and are touring around the country. They have yet to announce how long they will be staying in the Riviera Maya, so check back for updates!
Top Mexico Real Estate specializes in helping foreigners become homeowners in the Riviera Maya! If you plan on vacationing or retiring in paradise, contact one of our Top Mexico Buyers' Representatives who will be happy to walk you through the purchasing process and find your very own slice of paradise!
And remember, here at Top Mexico Real Estate…
We Make It Happen!