Buying on a Budget: Part 2
In this series, Buying on a Budget, you will learn where, how and what to look for when starting your search for real estate properties. Learn about the Mexico real estate market, how to make your budget and how to decide what kind of real state and lifestyle you are looking for. My goal is to provide you with all the necessary tools so that when the right opportunity arises, you are ready for it, and you feel confident about finding your new Mexican dream home.
In this edition of Buying on a Budget, you will learn the advantages of buying a fixer-upper property. If you are the kind of person who likes to get your hands dirty and take on personal projects, fixer-uppers can be an excellent way to save money. In addition to your initial overall savings, a fixer-upper allows you to invest in smaller chunks throughout the life of the project, instead of paying for everything at once. There are several important factors to consider when investing in a fixer-upper project.
Savings:
Besides the satisfaction of completing a project, the biggest advantage of buying a fixer-upper is the amount of money you can save. Some brokers in Mexico will cite up to 50% savings on real estate properties that were never properly finished or have been neglected. When considering buying a fixer-upper in Mexico, you will not only need to take into account the cost of the property, but also the total cost of all the renovations that need to be made to the property. Many Americans and Canadians have saved considerable amounts buying fixer-uppers in Mexico.
Important Considerations:
Don't just invest in a fixer-upper for the savings; make sure you are excited and ready for the project. Before you start looking for the perfect fixer-upper, there are several factors you need to consider.
Renovation Costs:
Renovation costs in Mexico are considerably cheaper than in the United States and Canada. Labor and materials cost less in Mexico. But just like with any renovation project, you want to make sure you hire someone who will do the project right the first time and will get the project done on time and on budget. Ask your real estate agent for suggestions and don't be afraid to ask your contractor for references. Ask their past clients if they finished on time, came in on budget and about their overall experience and satisfaction.
Property Condition:
To find out if you will actually be saving money on a fixer-upper you need to know the condition of the property. For example, property that is discounted 50% but has significant structural damage and needs a lot of repairs is not as good as a property that might not be discounted as much but only needs minor repairs. Construction styles differ in Mexico more than other parts of the world, and it may be harder to tell if the property's structure is sound and if it is a good renovation project. I recommend hiring a property inspector to make sure you know what you are buying and what you are getting into.
Construction Style:
In Mexico, the homes are built different than in the States, which widely use wood and drywall. Mexico homes are constructed using bricks and concrete. The corners, posts, and door and window frames will be constructed using poured concrete reinforced with iron rebar. The interior walls, kitchen counters, stairs, closets and just about anything else, will be concrete blocks. The ceiling is constructed by using either poured concrete, or spaced concrete beams. Many foreigners have never had to work with a concrete home before and that is why when taking on a renovation project it is a good idea to work with an experienced constructor who can see you through the project.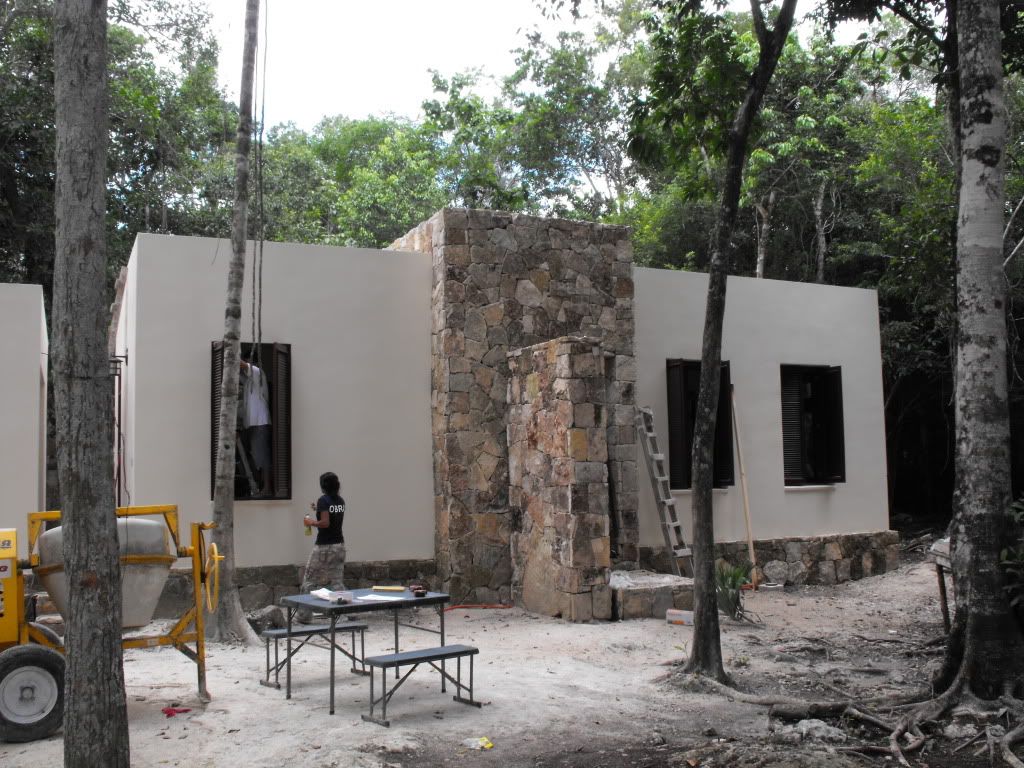 Renovation Hurdles:
Buying a fixer-upper can be an adventure. Many renovation projects will take longer than expect and have unexpected hurdles. During your renovation project you might run into sub-standard wiring, plumbing or drainage, which will need to be repaired. Unexpected hurdles will add time and money to your project. When jumping into this adventure keep an open mind and expect the unexpected.
Places to Look:
After you have considered all the factors involved in a fixer-upper and decide you are up for the challenge, you can start your search. Fixer-uppers can be found in many places throughout Mexico, but there are a few places where it is more common like in colonial cities such as Merida, Campeche or Oaxaca. Some beachfront cities, including Playa del Carmen, Cancun and Puerto Vallarta have neighborhoods with fixer-uppers. For example in Playa del Carmen, there is a working class community with new hotels and condos a short walk from the beach. In Cancun, most fixer-uppers tend to be in the downtown area. Puerto Vallarta has a few hillside communities where fixer-uppers can be found for good prices alongside of newly built condos.
Buying a fixer-upper in Mexico can be an adventure but it is also a great way to save. Additionally, you will be able to customize your home with your personal tastes and make it just the way you want it.
Keep on the lookout for part 3 of Buying on a Budget, where you will learn about pre-construction discounts and how to make these savings work; it will be released soon!
Now if you have any question about buying on a budget or if you are interested in any of the TOP MEXICO REAL ESTATE properties we have listed anywhere throughout Mexico, please feel free to contact our Top Buyer's Representatives and we will be glad to help you find your very own piece of paradise.
And remember, here at TOP MEXICO REAL ESTATE…
We make it happen!