In this series of articles we will take a look at six different neighborhoods in the Riviera Maya, with examples of properties for sale and the various amenities available to residents. In Part One we begin with a look at Playa del Carmen's Downtown area.
Playa del Carmen is quickly becoming one of the most coveted destination hot spots on the planet. It´s got a majestic coastline, a tropical Caribbean vibe that is unparalleled, and it boasts some of the most pristine and undisturbed beached in the world. It was the first part to develop 15 years ago when the Riviera Maya boom first began. This lively and bustling neighborhood  has a lot of activities such as small and large shopping zones, delicious restaurants, tropical scenic attractions, beautifully landscaped parks, and first class accommodations. It is also home to the world famous 5th Avenue, and hosts millions of visitors worldwide.
Playa del Carmen is also just a short drive from ancient Mayan ruins, crystal blue cenotes and cities like Cancun and Tulum. This is the place if you are looking for action. El Corazon del Riviera Maya.Average prices for condos is around $226,814. Let's take a look at some the best ones.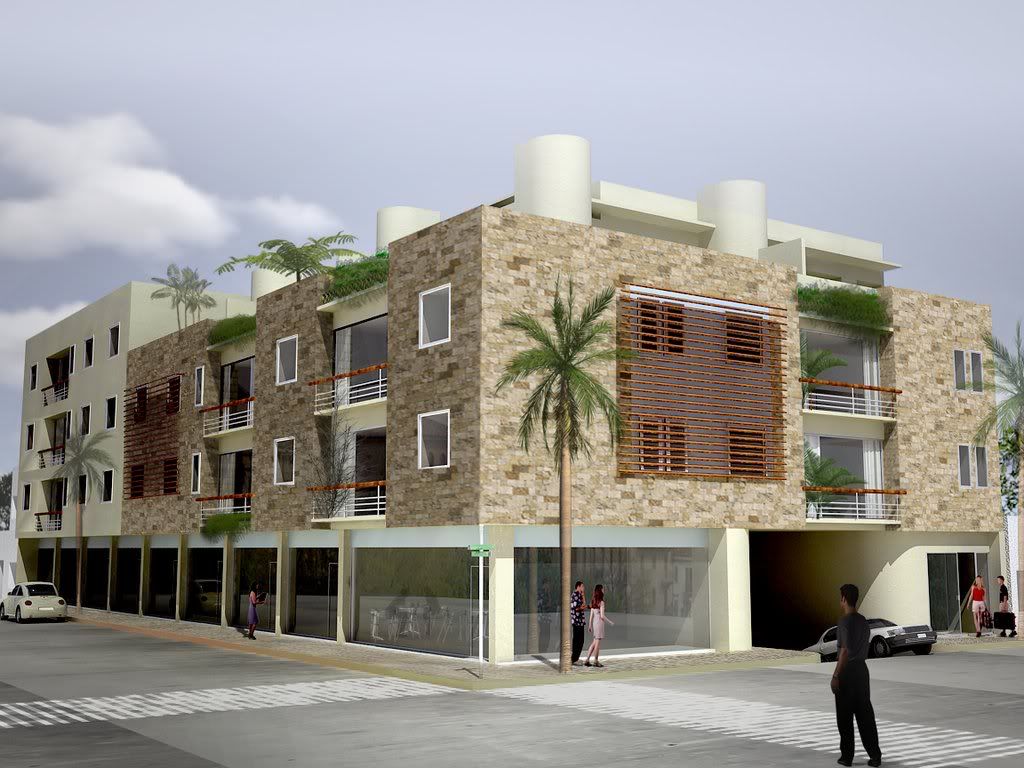 The Papaya condo is a good example of the kind of new developments that are in the heart of Playa's downtown area. Residents here can expect to only walk 15 minutes before arriving at the beach or to 5th Avenue. It's also located close to many shops and restaurants, a Walmart, supermarkets and banks. This is what giving downtown is all about: convenience combined with and an active lifestyle.
Papaya 15 has 29 modern designed one and two bedroom condos with a balcony. The condos come with a fully furnished kitchen with a stove, oven, refrigerator, and dishwasher. All of the condos have a laundry room with a washer and a dryer. Papaya 15 was built using quality carpentry, luxury finishes and marble flooring throughout the complex. Papaya 15 also offers three optional furniture packages designed to fit the overall look and feel of this stylish development. Another stunning amenity is the rooftop deck, which features an infinity swimming pool, Jacuzzi, barbecue grill and lounge chairs. The view of the Caribbean Sea and Playa del Carmen skyline is just a beautiful as expressed. Other amenities in the complex include elevators, underground parking, 24 hour security and concierge service.
A-Nah Downtown is all about location, with everything you only a short walk away! It's a great example of the current trend of modern condo-hotel that come with all the amenities you expect from a luxury hotel, including valet parking, a concierge service, and housekeeping. There is also a business center and a top of the line gym. The crown jewel of A-nah Downtown is the rooftop deck that featuring spectacular views of the skyline and the Caribbean Sea with an infinity swimming pool, Jacuzzi, lounge area and a fully staffed bar.  A-nah Downtown condos come it fully furnished so you can move in right away or begin renting.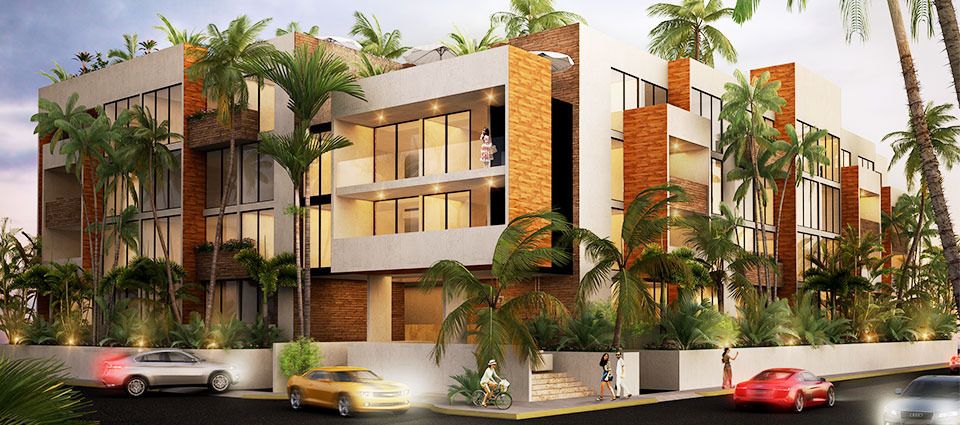 Palmares is right in the center of everything.  It's just down the street from the Quinta Alegria mall and blocks from 5th Avenue, a restaurant and shopping area. Let's not forget about the stunning turquoise blue water and white sandy beach. Just 5 blocks separate your condo from the beach and it is less than a 10 minute walk. This building has one, two and three bedroom condos and penthouses that put you right in the middle of an exciting urban lifestyle. Each condo has a patio overlooking the pool and garden area. A 1 bedroom condo at Palmares is only $175,000 USD, so stop dreaming and realize that at this price this can be yours. Want to see how close it is? Take a look at our video below which shows you how to get there.
If you are looking to explore these properties and the area surrounding them, why not join us for one of Top Mexico's Live it Tours? It's a great way to get to know them and enjoy a nice vacation at the same time. To book yourself in for the next tour and see the Top Mexico Real Estate properties we have listed in Playa Del Carmen's downtown please contact one of our Top Mexico Buyers' Representatives. We will be happy to assist you and help you find your very own piece of paradise.
And remember, here at Top Mexico Real Estate …