by Bea Lozano
Currently, Mexico is celebrating its Day of the Dead, as I pointed out a couple of days ago (see It's Time to Celebrate … Death?!)  A couple things must be noted.  As I mentioned on Tuesday, this celebration has traditions very distinct from Halloween, and it is very rich in cultural, historical and personal significance.  It also carries on for several days – normally the night of Oct 31 till the day of Nov. 2, but in Playa del Carmen celebrations started as early as Oct. 29.  The event is a very strong intertwining of family and communal celebrations, and focuses on remembering family and friends who have passed away.  There are a number of celebrations and exhibitions that allow everyone and anyone to participate.
Among numerous options, the following are the top 5 places to experience the Day of the Dead in Playa del Carmen.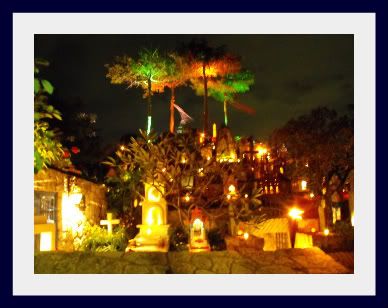 1. Xcaret
This is a cultural theme park just south of Playa del Carmen.  There celebrations, shows and exhibitions for the Day of the Dead are the best known in the area, and for a good reason; this is the full package.  The festivities go on for four days (Oct 30 to Nov. 2) and include concerts, dance shows, displays of traditional altars and an imitation cemetery with traditional decoration.  Keeping in touch with both sides of the cultural roots for the Day of the Dead celebrations, the park offers 4 daily Temazcals, which are similar to saunas but include a full Mayan ritual one hour long, and a Mexican Mass for All Saints Day (Nov. 1).
2. Fifth Avenue
Playa del Carmen's famous downtown tourist strip, Fifth Avenue, is home to an annual parade (October 29 – already passed!) and some displays and decorations along Calle Corazon, a picturesque little alley way running at a diagonal off the main street.
3. A Real Mayan Village
What would be a better way to discover the rich Day of the Dead celebrations of the Mayan people (Hanal Pixan) than go right to a real Mayan village?  Fortunately, there are tours set up that will take you to such a Mayan Village where you can experience these rich traditions directly where they were born.  On Nov. 2 at 5 pm the tour leaves from Centro Maya mall; tickets are available from www.alltournative.com. (In a separate event, there is also a competition for altars in the mall at 5:30 pm.  Unfortunately, you can't go to both!)
4. La Ceiba Park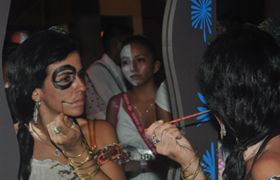 This beautiful little park is just across the highway from downtown and, besides being a relaxing place to spend an afternoon walking around or sipping a coffee, it serves as a center for events and culture for both locals and many expats. The park is largely supported by Xcaret and offers an extension of that park's activities, with events running on Nov. 3 and 4th.  These include theater, photography displays and workshops for face painting and funeral masks – all with Day of the Dead themes, of course.
5. Fundadores Park
This park is located directly on the beachfront, in the very heart of downtown, where Fifth Avenue meets Juarez Ave., close to where Fifth begins at the outdoor plaza called Paseo del Carmen.  On Oct. 31, there was a competition for Day of the Dead altars, open to anyone between the ages of 15 and 25, and open for viewing to all!  The variety and creativity of these altars is incredible!
In addition, there will be private altars in various places, and many Mexicans will set these up in their homes.  Finally, many of the bars and clubs will have Halloween-style parties with a Mexican twist to them which are always fun, even if they don't have much to do with the holiday itself!
The Day of the Dead can be a deeply personal celebration for Mexicans.  It is often very communal as well. As Tom has mentioned before, Mexicans are very open to welcoming all to participate in such celebrations; don't just watch, be sure to find a place and actually participate in and experience this rich cultural holiday!
TOPMexicoRealEstate.com; Mexico's Leading Network of Specialists for Finding and Purchasing Mexican Properties Safely