Many Americans and Canadians love riding trains.  While the use of practical trains for commuting is returning, far more interesting are the tour trains that run through picturesque locations with beautiful scenery and stopping at interesting little towns.
Why We Love Trains So Much
For myself, I remember riding a train through the countryside back home, seeing the fields and forests roll by, and also the pictures of the trains running through tunnels in enormous mountains, or following a river through a green valley.  I never rode on those ones, but I always wanted to.
Here in Mexico, up in the north of the country, in the state of Chihuahua, there's the Copper Canyon train with splendid views of rivers, cliffs and forests.  There's also the Tequila Valley train offering scenery and tours of the communities in Jalisco where the famous liquor was invented.
What about a Train to the Beach … or Mayan Pyramids?
Here's some good news that you may have heard about.  There are currently plans to build a train across the Yucatan Peninsula, going from the beaches in Playa del Carmen to the Mayan ruins of Chichen Itza, the colonial towns of Valladolid, Merida and Campeche, arriving to the beach once again.  I think there may also be plans for a route out to Progreso.
That would be a simply beautiful train ride!
Besides the practicality of another reliable and low-priced way to travel across the peninsula, the views would include the lush, green jungle, the ancient pyramids, all but forgotten Mayan towns and the romance of Mexico's colonial cities.
When Will We Get the Yucatan Train?
It's hard to say when this train will actually come into existence.  The plan has been around for a while, and it's been put on hold several times.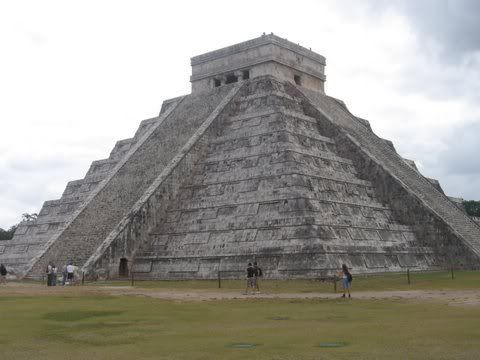 The good news is that the plan was approved and endorsed by Mexico's new President, Enrique Pena Nieto, in December, his first month in office. In just a few months, this President has established a reputation for getting things done – quickly and efficiently.  He has already modified the constitution, begun drastic improvement of the country's education and started economic reform that has given international observers and investors confidence that the country's annual growth will soon increase to 7% (up from the current 4%.)
When this President says there'll be a train in Yucatan, it gives me confidence that there really will be.
Since starting a new train route requires infrastructure, planning and millions of dollars of investment (about $1.5 billion to be exact), it's not something that happens over night.  In April the states in question held meetings to begin making plans.  The bidding for the private contract is expected to start at the end of this year.
Let's Hope …
Personally, I love the idea of riding a train across the Yucatan. I'm really hoping that this becomes reality!
-by Thomas Lloyd