Beach #24 on the Countdown to the Best Beach in the Riviera Maya: Luna Maya Luna Maya Beach has a special charm if you are visiting Tulum, once that you get into the windy road into the hotel area; the first thing you will see will be hotels and restaurants. The jungle covers the roadside and there is not a lot to see, and then after a small curve on the road you will see it: Luna Maya Beach welcoming you into Tulum!
Luna Maya is a small bay, located beside Zamas Hotel & Restaurant, actually you will notice that Zamas Restaurant and palapa with their cool palapa and colorful tables and chairs; inviting the tourist to take a pause and enjoy a cold drink and the magnificent view. Luna Maya Beach: Getting there If you are coming from Cancun or Playa del Carmen, take Highway 307 southwards towards Tulum. When you reach Tulum itself, you get to the first big intersection with traffic lights and the San Francisco de Asis Super Market, here you take a left turn towards the Tulum beach hotel zone (the street sign says Boca Paila). At the end of this road, follow the road to your right, this is the Tulum coastal road and you will pass lots of small hotels and cabañas until you reach a small bay. It will be located between Zamas hotel and the security checkpoint, you cannot miss it!
Luna Maya Beach: Things to do Luna Maya is a public beach, so you can get your gear and enjoy a relaxing day! It is also surrounded by rocks, so there is not a lot of people walking by. If you don't feel like taking a lot of things with you, you can also visit the Zamas Restaurant; which offers a nice mix of simple Mexican dishes and cold drinks and cocktails. The rocky sides of the beach also seem to attract some fishing aficionados, you might see them early in the morning or in the late afternoons; standing on the rocks hoping to catch dinner.
Luna Maya Beach: Recommendations If possible try to bring some water shoes, the rocks are quite sharp and this will protect your feet from cuts and scratches. These shoes can be bought in any local supermarket or sports shop in the Riviera Maya. Even though most of the beaches in the Riviera Maya have really calm waters, Tulum has wavy beaches with strong drifts. Make sure to check the flags if there is any or stay in shallow waters if you are not a very good swimmer, there are no lifeguards in Tulum. Tulum has a big natural reserve with jungle and mangroves, that means there is going to be lots of mosquitoes; bringing a biodegradable insect repellent is a must. Have Off! or some other DDT based cream or spray to keep insects at bay: after the rainy season there can be gnats and other insects that don't seem bothered by citronella.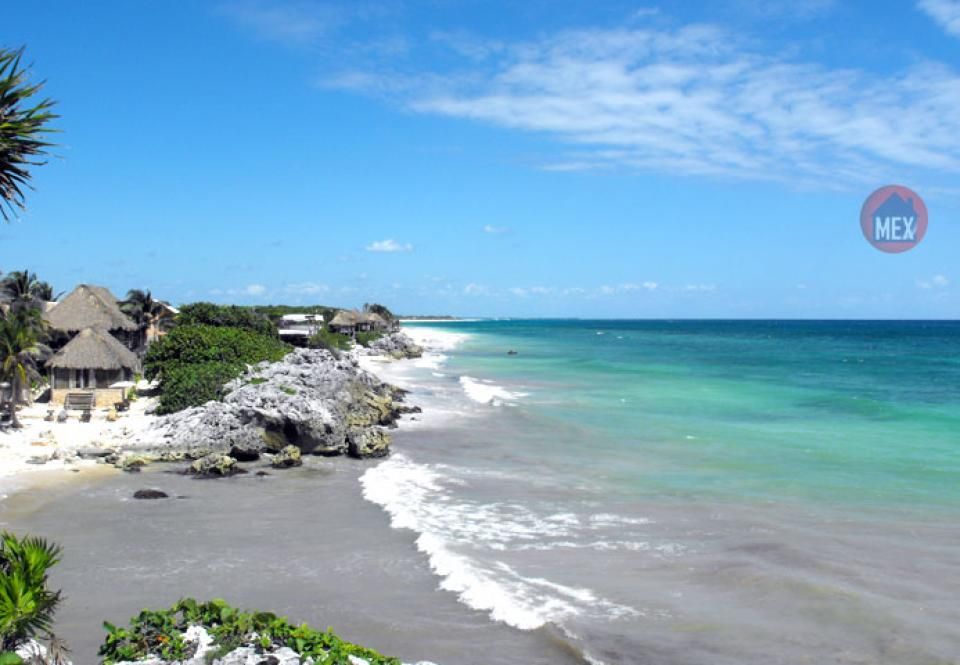 Learn about the different beaches in the Riviera Maya, and count down with us every Friday at the Top 25 Beaches in the Riviera Maya. Top Mexico Real Estate is your one and only stop for everything regarding the Riviera Maya, we are here to help people get their dream home in paradise. If you are considering purchasing a home in the Riviera Maya or some other areas of Mexico, feel free to browse our website or contact our certified Real Estate Agents. We have the credentials and expertise to take you from daydreaming to real life! And remember, here at Top Mexico Real Estate… We make it happen!