ViDAS held its Annual Sterilization Campaign in Playa del Carmen this week. ViDAS the Spanish word for lives, is a non-profit organization made up of Veterinarians, veterinary students and other animal lovers dedicated to improving the lives of animals and people through veterinary medicine and education.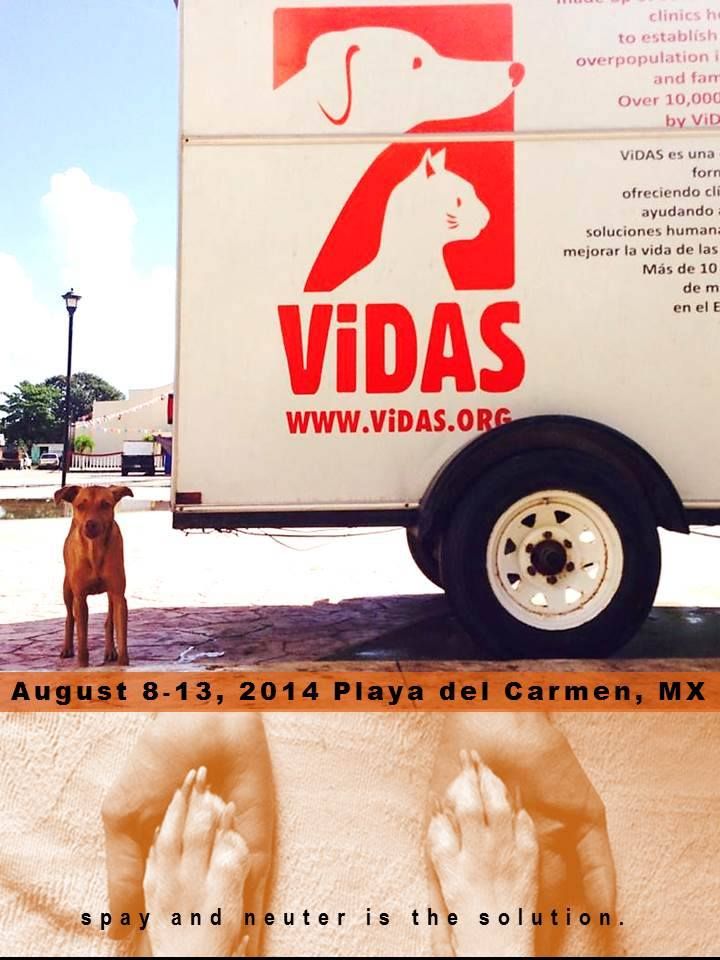 ViDAS conducted its first clinic in 2002 with only six veterinary students and two veterinarians. The five day clinic managed to safely sterilize 100 cats and dogs. ViDAS founding members were veterinary students of Colorado State University. Through Dr. Ruth Parkin, one of the founding member's tireless efforts, ViDAS has grown since that very first clinic in 2002. ViDAS has sterilized over 11,500 animals in over eight different cities around the Yucatan Peninsula.
The six day Annual ViDAS clinic in Playa del Carmen boasted almost 100 volunteers, and around 30 of those volunteers traveled all the way from the United States to aid this great cause. The contribution of many organizations like IFAW (International Fund for Animal Welfare) and local Coco's Cat Rescue helped to make this week long event a success. It was a record breaking week, ViDAS sterilized around 1,600 cats and dogs.
At the clinic cats and dogs are kept separate to not add stress to the cats. The surgery takes about 15 minutes and then the animal are moved into the first recovery room where they recover from the anesthesia. Then the cat or dog is moved into the second recovery room were their family can join them to provide comfort and aid in their recovery.
The ViDAS clinic is so important to Playa del Carmen because not only does it aid in decreasing the overpopulation of cats and dogs through sterilization but ViDAS also provides much needed education to the community.
ViDAS is constantly working toward their goal: to become more productive and effective at each clinic, to educate locals about the problems and solutions to pet overpopulation and to work with local veterinarians and municipalities on sustainable and humane solutions to overpopulation.
Coco's Cat Rescue is a local non-profit organization with a no kill policy and is dedicated to reducing the population of unwanted pets in Playa del Carmen. Coco's Cat Rescue has many project such as offering low cost or free sterilization on a daily basis to pets, street and rescued animals.
TOPMexicoRealEstate.com NETWORK; "Mexico's Leading Network of Specialists for Finding and Purchasing Mexican Properties Safely!"