Every year, hundreds of visitors arrive to the Riviera Maya looking for the perfect getaway: tropical weather, sandy beaches and beautiful turquoise waters!  But there are some that look for something else, a combination between a relaxing holiday and the opportunity to deepen their Yoga practice.
Yoga is very popular all over the Riviera Maya, and hotels and specialized retreats cater to the needs of a growing number of tourists that look for yoga classes, specialized yoga retreats or even teacher training courses.
10 reasons to have your yoga getaway in the Riviera Maya!
There are many Yoga destinations, but something that makes the Riviera Maya so unique is the opportunity to mix your practice with marvelous experiences, such as:
Explore ancient Mayan ruins.
Enjoy the many beautiful beaches throughout the area.
Experience the awe of swimming in an underground river.
Go snorkeling, fishing or diving… you know you want to!
Connect with nature, visit the many nature reserves in the area: Isla Contoy and Sian Ka'an are excellent natural havens.
Wake up early and enjoy the wonderful sunrise.
Look up to the starry night.
Experience the sacred cenotes of the region.
Escape the cold winter back home.
Meditate on the beach.
And above all, experience and learn more about Yoga!!!
A New Year of Yoga Retreats:
New Year's Hot Bikram Yoga Retreat
Casa Om in Cancun
December 28th–January 3rd, 2015
Ring in the New Year and cleanse the soul at this hot Bikram Yoga Retreat. This retreat is an excellent way to take care of the mind and body after the busy holiday season and celebrate the New Year. Siri Om, the retreat instructor and owner of Casa Om, has a love for yoga that is effervescent and will inspire you to new heights in your practice. Casa Om is located directly across from the turquoise blue water of the Caribbean Sea. It features a swimming pool, koi pond, ten luxury bedrooms and a gourmet vegetarian kitchen with gluten free and vegan options. The one thing Casa Om suggests that you bring to the retreat is a spirit of adventure and an appetite for fun! Are you ready to ring in the New Year at Casa Om?
PACKAGES INCLUDE:
Accommodation (6nights)
Breakfast buffet daily
Four Gourmet dinners prepared by the exquisite Casa Om's chef
Two yoga classes per day(hot room Bikram and Yoga on the pier overlooking the beach)
On-site swimming pool
Fun day in Playa del Carmen
Transportation to and from the Cancun International Airport
More information:
www.casaom.com
Revive Your Vibe: Reset Your Mind, Body and Goals
Yoga Adventures of Tulum
January 6th-11th, 2015
Treat yourself to a yoga and meditation retreat in front of the Caribbean Sea with Adesina Dowers. What a great way to start off the New Year! This retreat will help you recoup from the busy hustle and bustle of the holidays and reset your mind and body while focusing your goals for the New Year. Tulum is a yoga paradise with tranquil, crystal clear waters, powdery white sand beaches, amazing yoga, great food, Mayan ruins, and healing powers rooted deep inside the earth. Start the day with an invigorating morning practice, enjoy healthy fresh meals, followed by free time to relax by the Caribbean Sea or explore the wonders of the area. Indulge in a fabulous Mayan spa treatment, cover yourself in Mexican clay to detox and purify your skin, meditate in the sun and then wash it away in the sea. Afternoon practice is a yin or restorative to wind down the day. You will reconnect and rejuvenate yourself in this amazing Mayan land.  You know you deserve it!
PACKAGES INCLUDE:
Accommodations of your choice (5 nights)
Breakfast daily
Delicious and healthy lunch daily
Two yoga classes per day
90 minute healing massage
Group Mexican mud meditation in the sun
Welcome cleansing circle with local shaman
More information:
www.yogaadventurestulum.com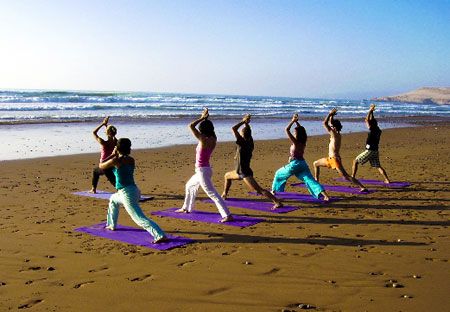 Hot Yoga Teacher Training
La Calma Resort in Tulum
January 5th–February 1st, 2015
New Years has always been a time for making new resolutions and bettering yourself. If becoming a hot yoga teacher has always been one of your dreams, now is the time to set that goal and accomplish it. You can complete your yoga teacher training in paradise. Spend four weeks at the ideally spiritual La Calma resort and get your yoga teacher training certificate in a picture perfect location. Evolation hot yoga teacher training is a 250hr course focused on teaching the hot yoga Primary Series, originally defined by Bikram Choudhury. You will explore the essentials of yoga philosophy, anatomy and mechanics that underpin this sequence – in an inclusive and intimate training environment. You will also deepen your own yoga practice through intimate posture mechanics workshops, a variety of yoga classes and individual feedback. Are you ready to immerse yourself in an intensive 4 week yoga experience that will change your life?
More information:
www.evolationyoga.com
Are you ready to trade in the cold weather and frozen tundra for balmy weather and a tropical paradise? Balance your chakra in the New Year in the Riviera Maya.