Living in Mexico and looking for the perfect place to escape to for the weekend? Have we got the perfect place where you could spend your weekend: Isla Mujeres! The gorgeous island off the coast of Cancun is home to over 12,000 people who can enjoy views of Cancun when the skies are clear. This small Caribbean island has much to offer to tourists who dare go on a getaway weekend to enjoy a new side of paradise.

How to Get There
Getting to Isla Mujeres is quite easy. Ferries leave from Puerto Juarez, Punta Sam or Gran Puerto, all located in the Benito Juarez municipality. Ferries depart to and from Isla Mujeres every half an hour from 5 AM to 12 AM from Gran Puerto through Ultramar, but make sure you check schedules prior to your trip so you don't get stranded on the island for an extra night! The other two companies run at different times, usually once an hour.
You can expect to pay $70 mxn for a one-way ticket, and if you want to cross with a car, moped, bike, or van, you can do so departing from Punta Sam and at an extra cost of $82 to $256 pesos.
Where to Stay
Isla Mujeres is lined with hundreds of gorgeous beach town hotels – from budget hostels to luxury hotels. Additionally, the real estate options are gorgeous and many home owners rent their properties by the day, week or month. Because the island is so small, staying in a condo or hotel in the center is perfect as you can walk or go by golf cart to the beach. If you would rather stay by the beach, the options are endless, also depending on which side of the island you want to stay at. The north part is where the arenales (sand banks) are, creating a beautiful view of white sand and crystal clear blue waters.
What to Do
The options of what to do in Isla Mujeres are endless. Snorkeling and scuba diving are the most common activities – you can't say you went to Isla Mujeres without dipping a toe in the ocean! Amongst the most popular things to do is swimming with the great whale sharks (although this can only be done during Whale Shark Season) and visiting the underwater museum. You can also visit the natural reef park Garrafón, take a tour to visit the best snorkeling spots, go fishing, and much more.
As soon as you step off the ferry, dozens of people will approach you selling their tours. The best thing to do is rent a golf cart to be able to move around the island and discover its amazing nature.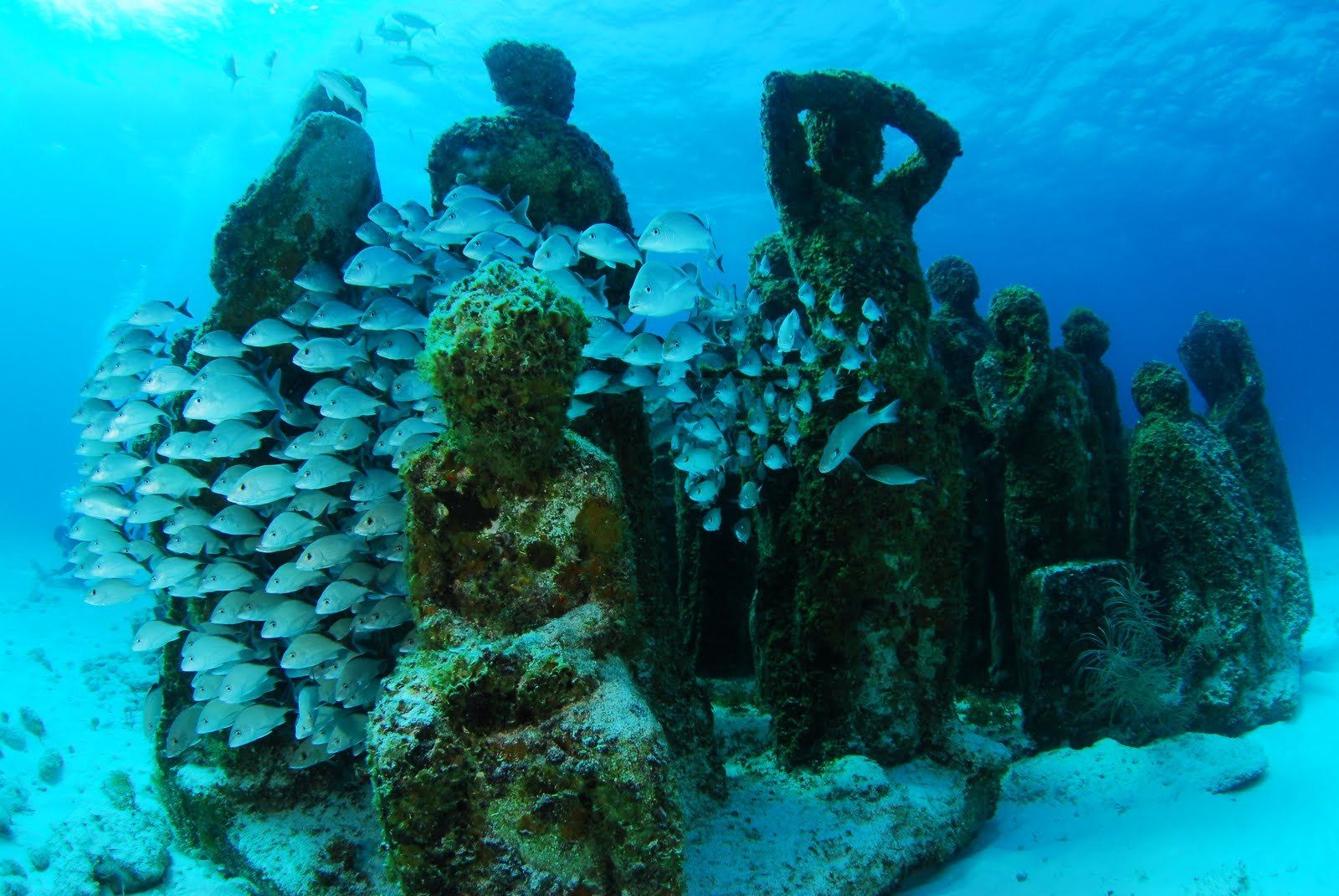 Shopping and Eating
There really is no tourist experience without some shopping and fine dining! Isla Mujeres has a great boulevard by the beach offering an array of shopping options. Most shops offer beautiful Mexican crafts such as sarapes, clay art, carved good, paintings, hammocks, typical dresses, shoes, and others. You will also find dive shops, restaurants and jewelry shops.
As to eating, the top recommended places are Mango Café for delicious breakfast, tea and coffee. Lunch can be had at Q'Bravo where enchiladas suizas and guacamole are recommended highly. Additionally, most (note: not all) restaurants in Isla Mujeres are affordable, as is everything in general, compared to Cancun or Playa del Carmen.
Recommendations
Isla Mujeres is small but has a lot to offer, so plan out your weekend getaway before getting there so you're not trying to see it all and end up seeing nothing. Snorkeling and scuba diving tours usually take up quite some time from your day, so if you're wanting to also explore the island, find the hidden gems, visit the parks and see the local life, you need to organize your times.
Bring money! Although it is more affordable than other places on the Riviera Maya, it is still a highly touristic destination and money will be spent. Whether you're paying for tours, beers, meals, or just shopping, it's always better to have money.
Most importantly, remember to be open-minded, enjoy the local laid-back lifestyle and make new friends!
Tune back for another great Weekend Getaway trip next week!
Top Mexico Real Estate is an American-owned company in Playa del Carmen catering to thousands of Americans and Canadians wanting to own property in paradise. Feel free to contact one of our Top Buyer Representatives if you're interested in purchasing a vacation, retirement or permanent home in Mexico! If you fell in love with the area there are many Isla Mujeres real estate options to choose from.
And remember, here at Top Mexico Real Estate…
We Make It Happen!