Playa del Carmen is growing at an amazing rate. In 10 short years it has transformed from a small fishing village into a bustling city, with a growth driven by all the locals and expats returning and relocating to the area.
This is why I have decided that every few weeks I will choose a Playa del Carmen neighborhood and let you know what you can expect living in that area.
For our first neighborhood I have chosen the Zona Diamante, which is spread between the Grand Coral Resort and the Selvamar Residences, with easy access to the Cancun – Playa del Carmen highway.
It's located just 15 minutes away from downtown Playa del Carmen, and is a fast growing area made up of several gated communities with condos, family homes and a condo hotel.
Prices in this area start under 100,000 USD, making this area perfect for all stages of life, whether you are looking for a starter home or the perfect place to retire.
If you are looking for an investment property, Zona Diamante can fit those needs also. The Fives Luxury Condo Hotel is located right on the Xcalacoco beach, and is a great option for investment, especially if you're looking to avoid all the hassle of managing a property yourself.
The Fives will look after all of the maintenance of your investment property and even find tenants to rent it.
Xcalacoco beach, which had been previously named as #5 in the top 25 beaches in the Riviera Maya, is the closest to all the communities located in the Zona Diamante.
It is still partly untouched, but offers a wide range of activities. Those who crave adventure can try their hand at jet-skiing, parasailing or even the ever popular jet powered hover boards.
For something slightly more relaxing, Xcalacoco beach offers scheduled fishing trips with seasoned fishermen who will take you to the best fishing spots, depending on the season.
If these activities are not for you, there is always the option for a relaxing massage on the beach where you can listen to the ocean rolling up and feel all the tension ease away. Or you can just sit back and enjoy a refreshing cocktail (or 2) at one of the beach clubs.
If you don't feel like driving or taxiing into downtown Playa del Carmen to have a few sociable beverages or to enjoy a meal, Zona Diamante can accommodate you.
You can try one of the laid back restaurants and bars on Xcalacoco beach like Coco Cabanas which offers both European and Mexican cuisines and is well known for their pizzeria.
Another choice is the Petite Lafitte, which is a quaint bungalow resort that offers a range of seafood dishes.
The open front bar & grill allows you to sit back and enjoy your cocktail and meal while soaking in the sun, sand and sea.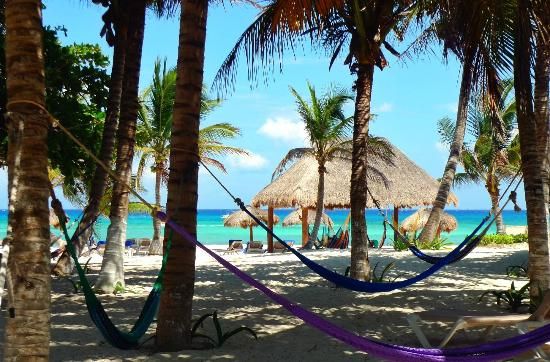 For a more special evening out in Zona Diamante there is Le Reve Hotel & Spa, which is a beachfront boutique hotel that offers a gourmet menu and wine from their own cellar.
The menu includes a selection of cut meats, poultry and fish, along with freshly caught lobster from the Caribbean Sea.
When you have had enough of lounging around on the beach and at the beach clubs and are looking for a change you can visit the famous Nick Price Golf Club, located just 5 minutes away in the Grand Coral Resort, or try out the Mayakoba Golf Club, the El Camaleon, which was designed by golfing great Greg Norman.
Related: Snowbirds Beware: Mexico has Perfect Year Round Golf
It hosts many golf tournaments big and best known for the OHL Classic yearly tournament.  It doesn't matter if you are not a golf pro or have never even swung a golf club, because the Mayakoba has a state of the art Jim McLean Golf School.
With private lessons on offer your golf skills will improve in no time.
And remember, here at Top Mexico Real Estate…
We make it happen!