La Ruta de los Cenotes is a wonderful option if you are visiting the Riviera Maya and want to experience something amazing and forget about the tourist traps. This unassuming road offers many pleasant surprises for those who dare to do something different.
La Ruta de los Cenotes: How to get there?
La Ruta de los Cenotes is the name given the road that connects the town of Puerto Morelos and Leona Vicario, in the southern state of Quintana Roo. It is located off the 307 highway, approximately 20 minutes south from the Cancun International Airport.
To get there pass the town of Puerto Morelos until you see a rock arch on the right hand side, that is the entrance to La Ruta de los Cenotes. On that road you will see signs for different cenotes or sinkholes, you just need to pick one and experience a one in a lifetime adventure.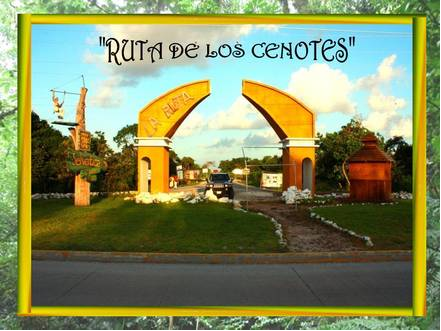 La Ruta de los Cenotes: What is a Cenote?
A Cenote or Sinkhole is a body of water that can be found underground, these are the only source of fresh water for the whole Yucatan Peninsula and they were considered sacred by the Mayans.
The Yucatan Peninsula is formed of limestone and when it rains the water seeps through the rock and forms underground rivers, all of these rivers run towards the sea. Since the water in these rivers are never touched by the sun, they completely lack coloration from algae or organic matter; hence the amazing colors of the water that can be seen all over the Riviera Maya.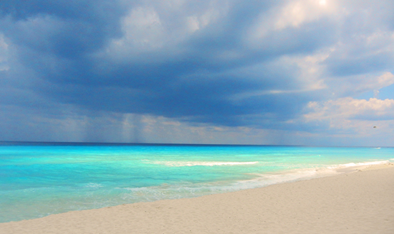 La Ruta de los Cenotes, off the beaten path adventures!
We have to confess that after so many years living in the Riviera Maya, we haven't been able to explore all the cenotes in the area. There are so many! But some of the cenotes are so beautiful, I often dream of going back.
Our staff's favorite is:
Cenote Siete Bocas:
Ruta de los Cenotes
Carretera Puerto Morelos- Leona Vicario Km. 15.5
Cost: 150 Locals, 200 nationals, 250 Foreigners * MXN Peso
We went to this cenote with some friends visiting from America, we just drove and decided to visit a few cenotes in one day. The place is run by a local family, with a very basic infrastructure, it is possible to rent swimming jackets and snorkel gear; but you can also bring your own.
Apart from a family, most of the bocas or entrances to the cenote were empty.  We picked one and down we went on some very ancient and creaky wooden stairs. My friends were panicking about the lack of restrooms and dressing rooms, but once we saw the water; they forgot all about that: it was magnificent!
Imagine swimming in a liquid topaz, the light beams coming in through little holes in the roof; forming beams of light in the water. It was paradise! If you decide to visit this cenote, it is better to bring food and drinks with you; as there is nothing to eat.
So go on and have some fun, explore our favorite spot!