It is hard to believe we are already making plans for the end of the year! 2014 has gone by so fast and it has been a great year for us at Top Mexico Real Estate. Throughout the year many new and exciting projects were born, happy customers lived their dream of owning a home in paradise and our sales team grew, becoming greater than ever!
If you are visiting or live near the Playa del Carmen area, we have compiled a list of places that are offering New Year's dinners to say goodbye to the old year and welcome 2015. Remember that good places get booked quite quickly, make your reservations as soon as possible!
I M P R E V I S T · Resto & Wine
1 Avenida Norte Entre Calle 14 Norte y 16 Norte Bis SN
Playa del Carmen, Quintana Roo
+52 984 168 7025
reservations@imprevist.mx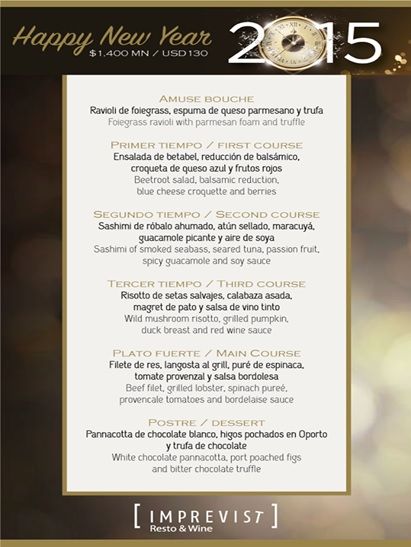 For only $130 USD you will enjoy a delicious gourmet dinner in a nice and romantic setting. Your dinner includes admission to a night full of live music and dancing at the 1st Annual Plank New Year's Eve Bash!
Alux
Av. Juárez Mza. 217 Lote. 2 Col. Ejidal entre diagonal 65 y 70.
Playa del Carmen, Quintana Roo
52 01 (984) 2062 589 / (984) 1471 563
info@aluxrestaurant.com
If you want to experience a unique gastronomic experience in an amazing place, you cannot miss the opportunity to enjoy your New Year's dinner at Alux. This beautiful restaurant offers not only the best food and wine in town, but also a mesmerizing ambience: located in a subterranean palace adorned by stalagmites and stalactites and special lighting to create a magical atmosphere.
Enjoy this natural attraction unlike any other; do not forget to bring your camera. Their excellent selection of menus and extensive wine selection combined with a unique setting make for memorable destination dining.
Kool Beach Club
Calle 28 y Playa
Playa del Carmen, Quintana Roo
01 (984) 803 19 61
eventos@koolbeachclub.com.mx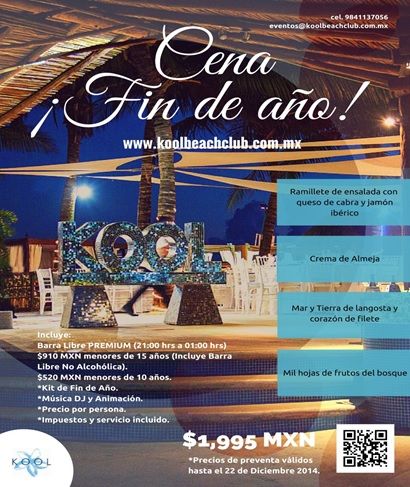 Kool Beach Club is offering a full night of fun on the beach for @ $140 USD. This gourmet 4 course steak and lobster dinner includes a premium open bar from 9pm – 1am, New Year's Eve party kit, DJ and other entertainment. Ring in the New Year at a Kool, hip location on the beach.
Wah Wah Beach Bar
Calle 2 Nte y Playa
Playa del Carmen, Quintana Roo
52 984 143 6009
wahwahbeach.com
Wah Wah offers the best party in paradise! No cover, no expensive meal, and no reservations needed! Just come as you are and have FUN! Wah Wah's will be offering their full menu. Renato and The Jam Session Combo will be rocking the stage all night long and at midnight they will have their annual Balloon Drop.
It's better on the beach!
Wah Wah Annual Hangover Haven
Just when you thought the party was over, celebrate the First Sunrise of 2015, at Wah Wah's 1st Annual Hangover Haven! Wah Wah will be serving an all you can eat breakfast buffet with unlimited bloody mary's and live music for only $220 Pesos. Wah Wah Annual Hangover Haven is from 6am – 11am on January 1st.
Rise and shine into the New Year!
Top Mexico Real Estate wishes you a Happy New Year!
And remember, here at Top Mexico Real Estate…We Make it Happen!