People living in the Riviera Maya are always looking for an excuse to organize a Fiesta. Most of the local subdivisions have nice common areas, which will allow you to enjoy a nice afternoon with friends without spending too much money.
If you are looking for the right property for you, you might be thinking about the number of bedrooms and bathrooms or even the location or neighborhood. But something that you should also consider is how Fiesta friendly your home might be.
This obviously does not apply to everyone, as social butterflies might use these areas more than others but the weather is defiantly fiesta perfect. For people that enjoy relaxation and being by themselves, these areas can be used to recharge, surrounded by nature, meditate or practice Yoga.
Is your home Fiesta friendly? Finding the right spaces
Most of the properties in the Riviera Maya have several social areas, some of them have spacious patios or gardens, other have a nice common area with a palapa and pool and some others even offer a clubhouse or a beach club. Imagine the possibilities!

Agua de Mar offers two bedroom luxury condos with endless possibilities for your party.
The property the photo is a good example of a Fiesta friendly property, as you can see it has huge balconies; if you want to keep your party private and be close to your kitchen. You can also use the beautiful modern-chic palapa, and have easy access to the pool; or even organize a nice party at the beach club!
Another space that can be used for a beautiful party is the rooftop, especially if it has views to the jungle or even better… the beach. Some of the rooftops also have common areas with barbeque grills and even a pool to take a refreshing swim in. Here is an ideal property for your next rooftop party?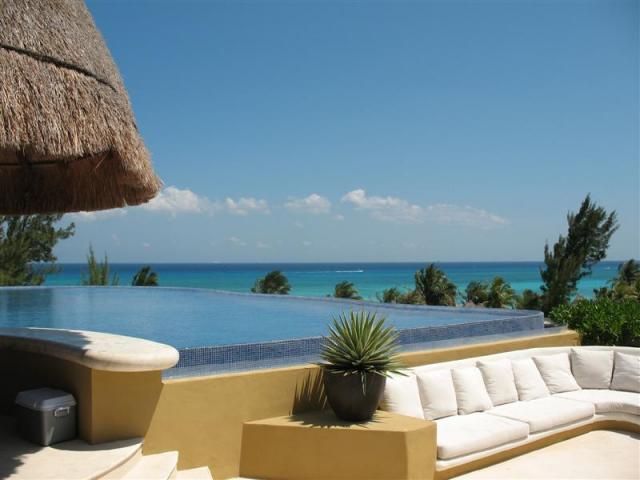 This property is located in the heart of Playa del Carmen, it has a huge common area with a swimming pool in the garden as well as a rooftop with a common area including a kitchen, sitting areas and an infinity pool. All of these with magnificent view of the pool, the jungle and the Caribbean Sea.
Finding the right property for you and your family depends on many things such as the main use of the property, personal habits and taste, etc. When looking for the perfect home it is important to list your priorities and let your Real Estate Agent know about them and your lifestyle.
Here at Top Mexico Real Estate, we have helped thousands of foreigners find their dream home in Mexico and the Riviera Maya. Our decade long experience of living and loving the Riviera Maya gives us special insight on what our clients need and what properties might be perfect for them.
Top Mexico Real Estate…
We Make It Happen!