The 13th edition of the Riviera Maya Jazz Festival is back this November 26th to the 28th in Playa del Carmen at the famous Mamitas Beach Club. Are you ready to have your senses flooded with the soothing and rhythmic vibes of jazz music? There's nothing quite like mixing amazing instrumental talent, powerful voices and the gorgeous Caribbean ocean and, like in previous years, the event is completely free!.
Since 2002 this event has touched the lives of locals and tourists alike with their star line-ups, their great atmosphere and the mixture of different jazz rhythms. Since its invention, jazz has been the music of the people, and one that – through beat, rhythm and creativity – everyone has come to love. The festival´s sound mixes other genres such as hip hop, blues, r&b, soul and the occasional cumbia session to create a vibrant and diverse representation of the genre.
Herbie Hancock and John Scofield are among the top grossing artists to have graced the stages of the festival in previous years. Earth, Wind & Fire, as well as Celso Piña, have also been special guests in the festival, allowing music-loving audiences to drown in a sea of great music in great company. This year the artists are on par with these giants of the different genres.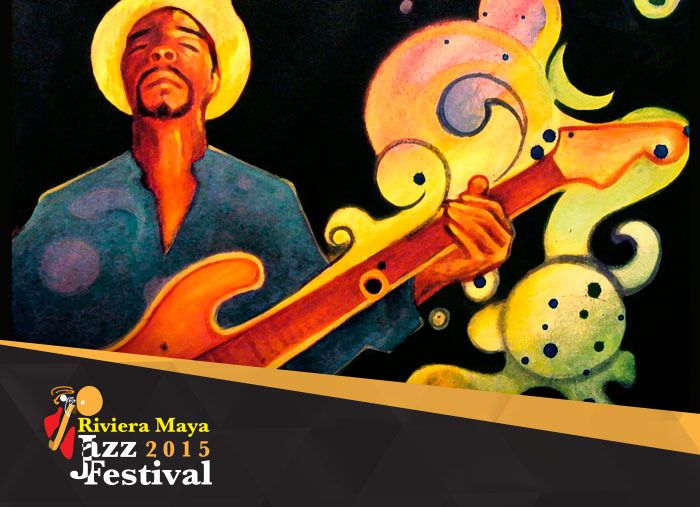 The three-day festival will see the grandness of Shela E., Zappa Plays Zappa and Gino Vanelli and many others whos fame and ear for music is sure to attract hundreds upon hundreds of music lovers to the beautiful beach in the company of their friends and family.
Because it's free and likely to be busy here are some recommendations to take into consideration when attending the festival:
Get there early
Although the festival doesn't attract quite as much people as Arena or the BPM, it attracts crowds of hundreds of people ready to enjoy a night out listening to the fine tunes of jazz. It's highly recommended that you arrive early in order to find a nice place on the beach to sit and enjoy the music. Additionally, if you're driving, be aware that you will most likely not find any parking nearby Mamitas Beach Club, so be prepared to park further away.
Bring a light sweater and a towel
The festival offers no seats or anything. The stage is mounted on the beach and the sand is your chair. Come prepared with a towel or anything similar to put down on the beach and sit on. Additionally, even though the Riviera Maya is known for its eternal summer-like weather, it's wintertime and nights can be chilly. Bring a light sweater or a wrap, as sitting still on the beach at night with the breeze from the ocean can make the weather a little cool.
Bring food, snacks and wine
The beach is public and you are allowed to bring as anything you like. There is quite nothing as chill as enjoying a nice glass of wine to the sound of music. Although food and drinks are sold at Mamitas Beach Club, and some people go around selling food and drinks, it's best to bring it from home in order to save money. Pack yourself a nice picnic basket with snacks or food and a bottle of wine – or if you prefer, beer. There is nothing like a beautiful evening with friends, family or that special person, in the form of a picnic.
Sit back, relax and enjoy the ride
Music takes you to different places, and jazz is no exception. So sit back, relax and enjoy the concert. Take it easy and enjoy the night with the people you love. Usually during the Riviera Maya Jazz Festival people are just chilling, not intensely jumping around and creating tight crowds. Luckily, jazz gives space for sitting and relaxing, which is what most people do.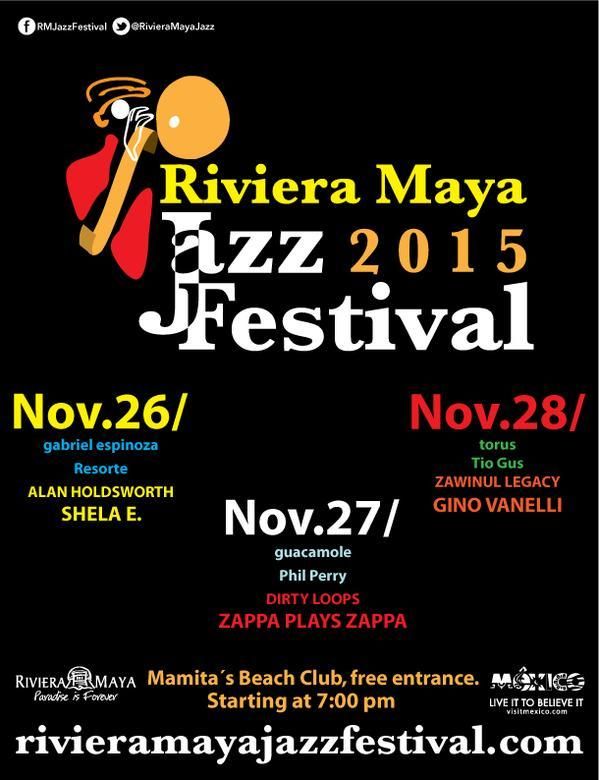 World-class drummers, distinctive voices, family legacy superstars, and much more are waiting for you at the Riviera Maya Jazz Festival this year. Don't miss out on this amazing (and free) experience that provides the perfect place for a relaxing weekend with your friends. You can follow the hashtags #RMJazz and #RMJazz2015 on Twitter and Instagram during the festival to learn about everything that is happening.
Top Mexico Real Estate is the number one website for real estate in the Riviera Maya, catering to American and Canadian people looking to relocate, vacation or retire in the beautiful Caribbean coast of Mexico. If you're looking to rent or purchase a property, contact one of our Top Buyer Representatives for further information about everything we offer. We are also your top news outlet for cultural events throughout the Riviera Maya, such as the RMJF.
And remember, here at Top Mexico Real Estate…
We Make It Happen!