This weekend, we're taking a day trip to the gorgeous Akumal Bay, just half an hour south of Playa del Carmen. Never forget that the Riviera Maya is vast, full of hidden (and not so hidden) gems, and it offers a million things to explore. Playa del Carmen doesn't quite give an idea of everything there is to see. Are you ready? Let's go!
How to get there
Akumal is located between Tulum and Playa del Carmen, only a 30 minutes drive from both cities, and approximately 1 hour and 20 minute drive south from Cancun. The best way to reach Akumal Bay is by renting a car and driving. However, colectivos (public transport) leave from the central coelctivo station in Playa del Carmen (15th Avenue with 2nd Street) towards Tulum. All you have to do is get on it and ask to stop in Akumal. You should expect to pay between $2 and $3 USD for the ride.
You will be dropped off on the west side of the highway. There is a huge crossing bridge over the highway, which you must cross and you have reached Akumal. If you're driving, take the Federal Highway 307 heading south and following the signs that read "Akumal". It is very well signaled and the exit is clearly marked.
Akumal is quite small and parking is limited. There are two small parking lots, however they tend to be quite expensive. Unfortunately, there are no free parking areas in Akumal so be ready to either pay the parking fee or you can park on the Akumal Pueblo side of the town (on the other side of the highway), and cross the highway by foot.
Where to stay
Akumal is a very small town with a beautiful bay and a few hotels. Accommodation varies between renting one of the houses or apartments available down the road towards Yal Ku (where you can enjoy Half Moon Bay beach), and staying at one of the hotels available there. Hotels, however, are quite expensive and you can expect to pay no less than $100 USD per night, or even much more. If you are staying in Playa del Carmen or Cancun, Akumal is great for a day-trip, with no need for staying the night.
However, you should consider that if you do stay at one of the hotels you get the added bonus of enjoying beach beds, towels and shade; whereas if you go for the day, none of that is available.
What to do
Akumal means "place of the turtles" in Mayan, and people go there for one thing: sighting sea turtles in their natural habitat. Approximately 40 juvenile sea turtles live in the bay, coming and going as they please, as it is their feeding zone. There are plenty of activities to enjoy in Akumal, but swimming through the bay searching for sea turtles is the main attraction.
You can either rent snorkeling equipment and lifejackets at one of the two diving shops, or take a guided tour. Keep in mind that Akumal Bay is a federally protected area and offenses are taken seriously, so we recommend you hire a guide in order to not break any of the rules (touching or chasing the turtles, standing on the corals, touching the ocean bottom, amongst many others).
After spending about an hour swimming around the bay looking at all the amazing sea creatures (there are plenty of fish, turtles, rays and corals), you can head over to Yal Ku lagoon, just a 5 minute car ride from Akumal, to swim in the gorgeous mixture of fresh and salt water that is home to thousands of colorful fish. This is also a protected area and an entrance fee of $12 USD has to be paid.
For those of you who love fishing or scuba diving, there are plenty of boats taking you out on tours. All you have to do is ask at either one of the dive shops for prices and information. Usually any fish caught can be cooked at one of the restaurants in Akumal. Diving is a favorite activity here as past the reef barrier there is a whole other world underwater.
You can also visit the NGO located in Akumal, which protects the ocean and the nesting turtles. Akumal is a nesting beach and if you visit anytime between May and November you are most likely to be able to take a tour at night with the biologists to see the turtles nesting and watch hatchling releases.
Shopping and eating
It's clear that Akumal is quite small and there is not much to do but spend the day at the beach. There are a handful of small shops around selling hand-made crafts, paintings and other curiosities. There is also a small market on the basketball court at the entrance selling necklaces, earrings, clothing items, bags, amongst others.
For eating there are three main restaurants to choose from: La Cueva del Pescador, Turtle Bay Café and Lol Ha Restaurant. They all are delicious and vary in cuisine styles, so make sure you choose wisely depending on what you are craving. On the road towards Yal Ku there is another famous restaurant called La Buena Vida with delicious food and an amazing variety of drinks, as well. This restaurant is on Half Moon Bay offering beautiful sights, and even a section with hammocks for relaxing after lunch.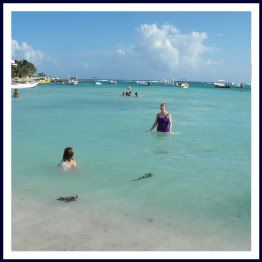 Recommendations
Akumal is one of the biggest attractions in the Riviera Maya – not to be overlooked! Although a weekend getaway is perfect in Akumal, if you're staying in Playa del Carmen, Tulum or Cancun, one day will suffice to visit this gorgeous bay. Here are some recommendations to take into consideration:
Bring cash: there is an ATM in Akumal, but remember that those usually charge hefty commissions. Most restaurants and shops take credit card, but it's better to be safe and sorry (La Cueva del Pescador is cash only and definitely a great dining option). The small market is also cash only and it's worth having some money on you to buy anything.
Bring a towel, a hat, sunglasses, your own umbrellas and biodegradable sunscreen. Akumal, as mentioned before, is an ecologically protected area, so it is of utmost importance that no damaging sunscreen is introduced into the ocean. Put on your sunscreen half an hour before you plan on swimming and make sure it's biodegradable.
There is no beach club in Akumal so you must provide your own towels and shade. There are no beach beds, no umbrellas or anything. People lay their towels down on the sand and sunbathe there, so make sure you're prepared.
Visit with an open attitude. Sea turtles are free, and they come and go as they wish, and – although unlikely – you may leave Akumal without having seen one. Don't complain to the tour guides or the locals, as they have no control over them. Have fun, enjoy the beauty of the place and keep an open mind about everything.
Well, one weekend comes after the next, and there are always new adventures and places to discover in the Riviera Maya. So check back next week for a new weekend getaway destination!
Top Mexico Real Estate is an American-owned real estate company catering to American and Canadian people wanting to make the move to the Riviera Maya. If you want to invest in paradise, our Top Buyer Representatives will gladly help you in the search for the perfect location and the perfect home.
And remember, here at Top Mexico Real Estate…
We Make It Happen!