Tomorrow is 4th of July… and for many of us we begin to feel a little homesick for Independence Day celebrations back home in good ol' U.S.A.   Backyard BBQs, potluck parties and breathtaking displays of fireworks… Oh how I miss them!
This is Mexico… why would they celebrate the 4th of July in Playa del Carmen?
Well, this cosmopolitan beach town beckons to people from all over the world. In Playa del Carmen you will find Canadians, French, Germans, Chinese… the list goes on and on.  Consequently, we also have a large expat community from the United States.  With so many expats, there are sure to be great American hangouts celebrating the "red, white and blue" right?   Whether you are living in Playa del Carman or just on vacation here… you don't want to miss out on this beloved holiday.
Related: Yucatan Peninsula: A Safe Haven for Visitors, Expats and Retirees
We have found some fun ways to celebrate Independence Day "beach style" here in Playa del Carmen.
Wah Wah Beach Bar is one of the most popular expat spots in Playa del Carmen. This beach club is located right on the beach and offers free beach chairs, a huge projection screen (where they show all the big games), wonderful food and drinks and great company. Wah Wah has decided to combined two great independence days… Canada (celebrated on July 1st) and the United states (celebrated on July 4th). Wah Wah throws this ultimate celebration, or as they call it, the "…biggest party south of the border". The party will start at noon on July 4th and carry on into the night. There will be a delicious BBQ with traditional 4th of July treats and many drink specials such as 15 peso drafts, 2 for 1 margaritas and big liter house drinks for only 100 pesos. The live music starts at 7 p.m. filling the tropical night air the sounds of The Nasty Bastards and The Smokin' Aces. The event is fun for the whole family so bring the kids along, there will be a big bouncy house and face painting!
Additionally, Bad Boys beach bar is also having their annual 4th of July party this Saturday. Bad Boys is another favorite expat hangout for Americans here in Playa del Carmen. The festivities will start here at 3 p.m. with an appealing BBQ potluck style buffet featuring a whole roasted pig provided by your host. Accordingly, make your favorite 4th of July side dish or dessert to share and head over to the annual 4th of July celebration at Bad Boys. So have a couple of drinks, eat some BBQ and jam out to live music by Creizy Toy.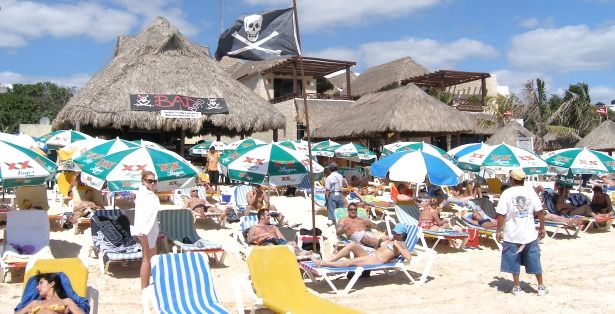 Furthermore, most resorts will have some kind of 4th of July festivity; from BBQs to activity for the kids, from spectacular firework display to fun had by all.
Put on your "red, white and blue" and celebrate the 4th of July in Playa del Carmen.
Happy 4th of July Playa del Carmen!