Scuba diving in Playa del Carmen has become a very popular activity for tourists and professional divers from all over the world. Playa del Carmen offers novice and expert courses and tours of various levels of difficulty, making it ideal for everyone interested in diving.
Playa del Carmen is a popular Caribbean destination, with beautiful calm beaches, white sandy shores and a vibrant culture and nightlife. When it comes to destinations in the Riviera Maya, Playa del Carmen offers an interesting mix of real Mexico and a modern city.
Playa del Carmen is located 45 minutes south of the Cancun International Airport, and sits along the Mesoamerican Reef; the second largest barrier reef in the world. The Mesoamerican Reef is 600 miles (965 km. long) and it is renowned for its abundance of fish life and variety of diving sites.
The Mesoamerican Reef has a wide variety of animal life such as turtles, groupers, barracuda, and tarpon. Other animals that can be found in the reefs are:  seahorses, pipefish, fire worms, and all sorts of tiny shrimp and crabs.
Scuba Diving in Playa del Carmen: Once in a lifetime experiences
If you visit Playa del Carmen, and you are interested in a diving tour; make sure to shop around for a certified provider. Check sites like Tripadvisor or PADI to make sure you are picking the right provider for you! There are however, diving experiences that are unique, and shouldn't be missed by any diver visiting the area.
Whale Shark
(May-September)
The whale shark is the biggest fish in the world, it can grow up to 40 feet in length and can weigh up to 13.6 tons. Despite its enormous size, it does not pose any danger to humans since it feeds on phytoplankton, microalgae, plankton, krill and small nektonic life, such as small squid or vertebrates. Do not miss the opportunity to swim close to these gentle giants, a magical experience you will never forget!
Sailfish Adventure
(December–March)
Swim with one of the fastest fish in the ocean, the sailfish can reach speeds of up to 68 mph. During winter, the sailfish arrive in the Mexican Caribbean, near the shores of Contoy Island; attracted by the abundance of sardines in this area. Contoy Island is a nature reserve and a beautiful tropical paradise, this tour is an excellent opportunity to see a variety of native animals in their natural environment.
Bull Shark Dive
(November–March)
Experience the dive of a lifetime with these amazing creatures! The bull shark (Carcharhinus leucas) is a robust shark with a flat rounded snout, grey top and white bottom.  The larger females can grow up to 11 feet long, weighs upwards of 500 pounds and live over 15 years. A bull shark is a unique species that can tolerate freshwater, hence these species have been found up rivers and have been responsible for attacks on humans and other species. The attacks of Bull Sharks have inspired movies like jaws, where sharks attack their prey in the open sea, near the shore and even rivers!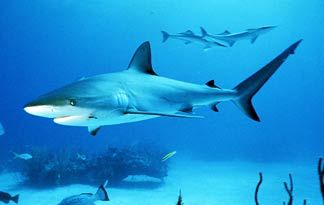 Searching for the adventure of a lifetime, look no farther, scuba diving on the Mesoamerican Reef. Don't miss one of these wonderful experiences! Visit Playa del Carmen.